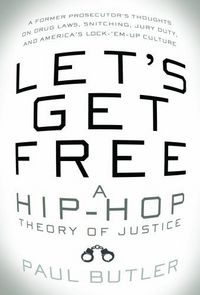 Purchase
A Hip-Hop Theory Of Justice
New Press
May 2009
On Sale: May 12, 2009
224 pages
ISBN: 1595583297
EAN: 9781595583291
Hardcover
$25.95
Add to Wish List

"Paul Butler utilizes his years as a prosecutor and law teacher to dramatically describe this country's war on crime as one encouraging what it seeks to eliminate, corrupting those commissioned to enforce its laws and, in the process, ruining more lives than it protects. Butler conveys this tragedy with a wry humor and through a careful review of studies, experience, and insight."
--Derrick Bell, author of Faces at the Bottom of the Well and visiting professor at NYU Law School
"A provocative and intelligent analysis of U.S. justice. Butler has a fresh and thought-provoking perspective on issues like the war on drugs, snitches, and whether locking so many people up really makes Americans safer. Butler's compelling writing makes Let's Get Free a great read, and his insightful analysis has the potential to make the United States a more just society."
--Anthony D. Romero, executive director, American Civil Liberties Union
"Let's Get Free is a tour de force. This book is provocative and informative and creates a cross-generational dialogue that will enrich all those who read it. It helps us understand the complexity of crime and the need to moderate punishment. This is a good read and a must read."
--Charles J, Ogletree Jr., author of When Law Fails, professor of law at Harvard and the executive director of the Charles Hamilton Houston Institute for Race and Justice
Paul Butler was an ambitious federal prosecutor, a Harvard Law grad who traded in his corporate law salary to fight the good fight. It was those years on the front lines that convinced him that the American criminal justice system is fundamentally broken--it's not making the streets safer, nor helping the people he'd hoped, as a prosecutor, to protect.
In Let's Get Free, Butler, now an award-winning law professor, looks at several places where ordinary citizens interact with the justice system--as jurors, crime witnesses, and in encounters with the police--and explores what "doing the right thing" means in a corrupt system.
Butler's provocative proposals include jury nullification--voting "not guilty" in certain non-violent cases as a form of protest, just saying "no" when the police request your permission to search, and refusing to work inside the criminal justice system. And his groundbreaking "hip-hop theory of justice" reveals an important analysis of crime and punishment found in pop culture.
Chock full of great stories and cutting-edge analysis, this accessible and lively critique will change the way you think about crime and punishment in the United States. As Butler eloquently argues, when we end mass incarceration and excessive police power, everyone wins. Let's Get Free offers a powerful new vision of justice.

Media Buzz
Tell Me More - November 19, 2009
Good Morning America - July 30, 2009

Comments
No comments posted.

Registered users may leave comments.
Log in or register now!