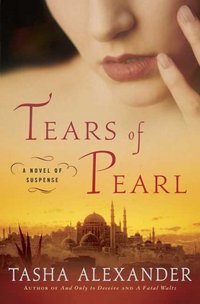 Purchase
Lady Emily Mysteries #4
Minotaur Books
September 2009
On Sale: September 1, 2009
Featuring: Lady Emily Hargreaves; Colin Hargreaves
320 pages
ISBN: 0312383703
EAN: 9780312383701
Kindle: B002LA09VC
Hardcover / e-Book
Add to Wish List

Romance Historical | Mystery Woman Sleuth
Looking forward to the joys of connubial bliss, newlyweds Lady Emily and Colin Hargreaves set out toward Constantinople for an exotic honeymoon. But on their first night in the city, a harem girl is found murdered— strangled in the courtyard of the Sultan's lavish Topkapi Palace. Sir Richard St. Clare, an Englishman who works at the embassy in Constantinople, is present at the murder site and recognizes the girl as his own daughter who was kidnapped twenty years earlier. Emily and Colin promise the heartbroken father they'll find her killer.
As a woman, Emily is given access to the forbidden world of the harem and quickly discovers that it's mysterious, sheltered walls offer no protection from a ruthless murderer. Soon, the Valide (mother to the Sultan) is found strangled with a silken bowstring and the head Eunuch, a scheming and powerful harem guard, is brutally killed.
Emily finds herself drawn into the dark intrigues of the Seraglio, among them trying to help a harem girl escape – a crime punishable by death. But the killer strikes again, kidnapping a concubine and threatening to kill her unless Emily agrees to meet him in secret. She cannot wait for Colin or the authorities to save her and agrees to a rendezvous in the shadowy Basilica Cistern, a cavernous, echoing underground reservoir from which a victim's screams would never be heard. In a heart- stopping finale, Emily must rely on her own sharp wits if she is to stop a killer bent on taking revenge no matter how many innocent lives he leaves in his wake.
Lady Emily Mysteries
Comments
12 comments posted.
Re: Tears Of Pearl

My hats off to you for all the reseach that you have to do for your books. I thught it was Hard enough with just the writting the story with what plot , setting, the characters , spelling and grammar (whigh I hate in school and failed at by reading my comment). Love to read just fiction that is close to how it was in any time if was historical or to the present. Good luck with Tears of Pearl.
(Jeanette Bowman 2:33pm September 2, 2009)
I'M PUTTING THIS TO THE TOP OF MY LIST ITS A MILE LONG ALREADY BUT WHAT THE HECK.......I ENJOYED THE EXCEPT VERY MUCH.
(Ann w 3:40pm September 2, 2009)
It must be so interesting to do all of the research; to discover the truth in the lives of 19th century citizens. It's great that you are able to include this in your books. Thanks for the lessons in history.
(Robin McKay 3:54pm September 2, 2009)
To travel and do reasearch has to be wonderful.I love anything historical. My oldest grandaughter is engaged to a high school history teacher. Too bad he lives 1,200 miles away, we could compare notes. GOOD LUCK with your books.
(Evelyn Day 4:51pm September 2, 2009)
A fascinating expose. Thanks so much for it. One of my favorite books is "A Gift for the Sultan" by Olga Stringfellow, a novel which was supposedly based on the life of a British woman sold into slavery. Instead she became the favorite wife of the Moroccan sultan and bore him a son who was made sultan upon his father's death. She too advised her son and helped him, especially during the French Revolution. I also have another book, this one more of a biography of a woman from the harem who reached influence in the Ottoman Empire. I believe her name was Aimee and may be one of the ones you've mentioned.

BTW, some of my friends were horrified that I travelled alone to Washington, D.C. some 20 years ago and before that throughout Europe, though I never did get around to Turkey.lol
(Sigrun Schulz 5:23pm September 2, 2009)
P.S. Your books sound so fascinating that I'm making an exception and "taking on" a new-to-me author. I've already put a hold on Emily Ashton #1 at the library.
(Sigrun Schulz 5:31pm September 2, 2009)
After reading the excerpt, I definitely want to read this book. I'd love to win a signed copy of it. Thanks.
Lorraine
moml1@cox.net
(Lorraine Larose 5:46pm September 2, 2009)
What an interesting life you lead. All the research and travel would be a lot of hard work, I'm sure, but what a wonderful experience. I can't wait to read Tears of Pearls.
(Theresa Buckholtz 5:52pm September 2, 2009)
You gave so much interesting and educational information. I'm anxious to read 'Tears of Pearl'. The story sounds fantastic!
(Rosemary Krejsa 7:19pm September 2, 2009)
Wow, what an excerpt. This era and
style of story is a favorite. Had a 3
month trip to that area planned in
1971, but a family emergency made it
necessary for me to return home after
only 10 days. Travel there was much
safer 40 years ago. Would still love to
travel there.
Will definitely be looking for your
book.
(Patricia Barraclough 10:55pm September 2, 2009)
Excellent post. There is so much out
there to read and explore. I traveled
alone while in the Peace Corps and on
my trip home from my assignment.
That was cut short after only 10 days.
I managed Singapore, Indonesia and
Bali before getting word my mother
was dying. I had planned a 3 month
trip (the length of time my passport
was good) through Southeast Asia,
India. and the Middle East. Hope to
get there some day. Traveling on a
shoe string like I was, I was very much
on the economy. I stayed in $2 a
night local establishments and ate at
street vendors and local cafes.
Traveling alone does have its draw
backs and there were a few times I
was concerned. However, in my three
years in the PC and on my short trip, it
was a great experience. You always
run into others traveling like you are
and you usually are not completely
alone. I can relate to these ladies and
do see how they could do what they
did. People were always willing to
share their country and culture with
those who were truly interested.
I will definitely bee looking for this
series. I don't think our library has
them, but since I do some of the
ordering, I can take care of that, once
we get some more book money. We
are a very poorly funded library (less
than one tenth the average national
per capita funding).
(Patricia Barraclough 11:22pm September 2, 2009)
I had bought into the Victorian lifestyle, thinking it must be true. I had heard of Gertrude Bell though! Now that I know better, well, that's more for me to read and find out, right?
(Anne Harris 8:59am September 3, 2009)
Registered users may leave comments.
Log in or register now!