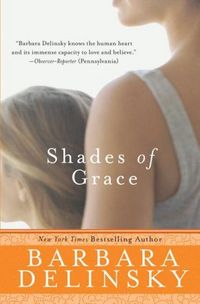 Purchase
Avon A
April 2009
On Sale: April 1, 2009
448 pages
ISBN: 006171352X
EAN: 9780061713521
Paperback (reprint)
$12.99
Add to Wish List

Grace Dorian is The Confidante, America's favorite advice columnist. Her wisdom has helped to guide two generations—including her daughter, Francine, and granddaughter, Sophie, who manage the vast Dorian empire and oversee the thousand details of Grace's world.
But a national treasure is losing her brilliance. Her once razor-sharp mind is showing strain; her columns have begun to wander. Concerned about Grace's health and future, Francine must step in to fill her legendary mother's shoes and somehow also live her own life—which now suddenly includes her confusing feelings for Grace's handsome doctor and new worries about tempestuous Sophie, who needs more guidance than Grace's public.
Shades of Grace is a touching and heartfelt story in which love and devotion are put to the ultimate test—a classic from New York Times bestselling author Barbara Delinsky.
Comments
11 comments posted.
Re: Shades Of Grace

After reading the excerpt, I would love to win a signed copy of this book. Thanks.
Lorraine
MOML1@COX>NET
(Lorraine Larose 12:58pm May 5, 2009)
What? I'm first? Well, that's a first. . . :-)

My mother, too, was a big influence in me reading. For every birthday or special occasion I got books. First The Bobbsey Twins, and then Nancy Drew. They also bought me drawing equipment, as I'm quite good at art-type stuff.

I don't remember my sisters or my brother getting books, though.

Yes, it was my mother who got me reading!
(Donna Breitkreuz 2:32pm May 11, 2009)
In a weird way my Mom fostered my love of reading. She is a couch potato and she monopolizes the tv, she always has since I was a kid. Since I could never watch TV I ended up reading from a young age!
(Mari M. 10:34pm May 11, 2009)
As long as I can remember my Mom and my Grandmom always had a book in their hands. I read in high school but not that much. It wasn't until I was a Mom that I really started reading. Now I don't go anywhere without a book I'm reading all the time.
(Lynn McCrea 3:31pm May 12, 2009)
I'm not a mother but I absolutely love
Mothers Day. I have the world's greatest
mom.
(Bridget Hopper 6:29pm May 12, 2009)
It was definitely mom who got me reading. She use to tell me all the time that she read Green Eggs and Ham to me a million times - and most of the time I "read" it with her. My memorization was awesome then!

It probably also helped that I was an only child. Reading is a great activity when you are by yourself. Now, if I could just find a little more of that now . . .

So, thanks Mom!! What would I do without you?
(Amanda Reeder-erdly 7:06pm May 14, 2009)
I love stories with strong moms in them.

I loved getting books fromt he library and whenever I got money from my gma I would buy a Nancy Drew or Trixie Belden book.
(Pat Lieberman 1:48pm May 16, 2009)
I love reading My mom got me into reading!!!!
(Sandra Rodriquez 2:50pm May 16, 2009)
My mom read to me as a child and gave me books that she loved when she was young. I am now a new mom and my daughter has a bookshelf full - so she already has a tbr pile. LOL.
(Karen Triolo 4:18pm May 16, 2009)
My mom didn't read often, she was too busy with four kids, but she insisted we read any time and anything we could. I will always thank her for that.
(Patsy Hagen 1:56pm May 19, 2009)
well the perosn who i grant for rading and doing thing was newpaper teacher in high school i love to have some new book and best wishes
(Desiree Reilly 11:17pm December 23, 2009)
Registered users may leave comments.
Log in or register now!