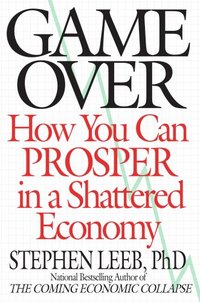 Purchase
How You Can Prosper In A Shattered Economy
Business Plus
February 2009
On Sale: January 28, 2009
256 pages
ISBN: 0446544809
EAN: 9780446544801
Hardcover
$25.99
Add to Wish List

In these extraordinarily uncertain economic times, bestselling author Dr. Stephen Leeb has very carefully analyzed some of the basic and fundamental flaws of our economy, and his arguments are both compelling and frightening.
Yes, we already know that we are in desperate need of finding alternative sources of energy, but what Leeb details is just how close we really are to running out of oil, and that popular alternative plans such as wind power, solar power, ethanol, nuclear energy, and so on just aren't going to serve as the immediate answers. Leeb makes it abundantly clear that the clock is ticking....and it's time to wake up.When Stephen Leeb wrote the national bestseller THE COMING ECONOMIC COLLAPSE a few years ago, he predicted that the price of oil would quickly soar past $100 a barrel and push the price of gas at the pump to $4.00 a gallon. At the time of that book's publication, gas cost $2.50 and oil was around $65 a barrel.
Now -- in the most dramatic and most important book that Leeb has written to date -- he shows how the combination of several key factors -- including inflation, the every weakening dollar, the soaring price of oil, increasing competition from China and India, and our runaway national debt - are going to make for a very rocky road for Americans in the next few years. The good news is that Leeb provides some key and valuable information as to how smart investors can survive. Is gold still the answer? What stocks will actually thrive in a down market? What happens to the real estate market? What professions will be the best ones to choose? All of these issues, and much more, are covered by Leeb in GAME OVER. It's startling but mandatory reading.

Media Buzz
Anderson Cooper 360 - March 30, 2009
Good Morning America - March 14, 2009
Anderson Cooper 360 - February 20, 2009

Comments
No comments posted.

Registered users may leave comments.
Log in or register now!