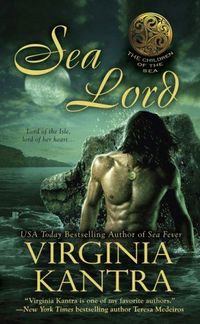 Purchase
Lord of the Isle, lord of her heart...
Children Of The Sea #3
Berkley Sensation
May 2009
On Sale: May 5, 2009
Featuring: Conn ap Llyr; Lucy Hunter
304 pages
ISBN: 0425226360
EAN: 9780425226360
Mass Market Paperback
$7.99
Add to Wish List

He was born of the sea…

Selkie prince Conn ap Llyr denies his deeply sensual nature to rule over the immortal Children of the Sea. But when the Children of Fire threaten the Selkies' Sanctuary, Conn must obey his haunting visions—and seek a woman thousands of miles away...

She was born on land…

Schoolteacher Lucy Hunter knows nothing about her Selkie heritage or the prophecy that drives Conn to find her. She is content with her life on the quiet Maine island of World's End. That is, until a proud, compelling stranger appears to challenge her assumptions and awaken her desires…

Their love will tear them between two worlds…

To combat Fire, Conn needs Lucy's magic—even if this means stealing her away to Sanctuary. As the demon threat grows, so does their passion, overcoming Lucy's fears and Conn's guarded heart. But soon they face a devastating choice. Will their love be enough to save them? Or will their destinies tear them apart?
Comments
26 comments posted.
Re: Sea Lord

Hi Virginia, I was so glad when you came out with this series, liking selkie romances.

I think there's more realism to be found in those fairytales if you go back and read them again as an adult. As a kid, loved all the fairty tales, Sleeping Beauty, Rapunzel, Snow White. Ariel the mermaid was a big hit with my niece. As I got a bit older, I was very into those gods and goddesses in mythology, Poseidon and Neptune being favorites, and Atlantis has always fascinated me - guess that's why I like sea creatures in romance now that I'm older.

Happy Release Day!
(Pamela Pellini 2:32am May 5, 2009)
Hi Virginia,

I love your books, and can't wait to read more of them!

When I was little I read anything to do with mermaids, and unicorns.

Today I find that I read mostly paranormal romance which seems to cover everything from selkies, vampires, witches, and more.

I remember when Lovespell had a fairytale line a number of years ago.
(Stephanie Riley 9:10am May 5, 2009)
I loved reading fairytales growing up. I remember Reader's Digest put a bunch of them out (I still have one of the books, wish I had the rest) and Fairytale Theater with Shelley Duval was such fun! I would like to see new interpretations of some of the other tales, like Rapunzel.

Margay
(Margay Roberge 9:53am May 5, 2009)
Reading Fairytales sparked my interest in books in general. The Water Babies started this beautiful journey and it has continued to this day.
(Sharon Berger 10:19am May 5, 2009)
Thanks, Pam! Release day is always exciting. Of course, all the distraction makes working on my next book a bit of a challenge.

Stephanie, I'm so glad you're liking the books! You're right about paranormal romance running the gamut these days. Have you seen Eloisa James' new column "Wild Kingdom"? It's on the B&N site under "B&N Reviews." I'd post a link, but I don't think FF will let me. :)

Margay, I loved Fairytale Kingdom! I'd forgotten all about it!

Sharon, I think the first book I remember that was was The Lion, the Witch and the Wardrobe.
(Virginia Kantra 10:52am May 5, 2009)
I have always been a Beauty & the Beast fan. I love that story however it is told. P.C. Cast rewrote the story in her Goddess series. I think its part of the reason I like Dylan in Sea Fever, he may not look like the beast, but he acted like it sometimes!
(Susan Galley 12:43pm May 5, 2009)
Most romances are fairy tales!
(Shannon Scott 12:43pm May 5, 2009)
I enjoy any sea theme with mermaids.
(Vikki Parman 1:07pm May 5, 2009)
I've never seen these particular books! Thanks for sharing.
(LuAnn Morgan 1:12pm May 5, 2009)
Fairy tales and romance may not be all "real" life, but they often include basic truths of real life! I have always loved the beauty and the beast themes and also The Swan Princess...hmmm didn't realize I liked changlings even at that age!! Thanks for sharing! I am interesting in getting this book...would be my first Selkie! (Other than the little mermaid!)
(Martha Eskuchen 1:23pm May 5, 2009)
Love that you've given that much care into your heroine! I hate it when authors write younger heroines (early 20s..the same age as me) and make them sooo crazy or indecisive. Sure we have some growing up to do still, but don't go over the top with it.

Thank you for putting some thought into it!

Happy Cinco De Mayo!
(Rachael Grime 1:23pm May 5, 2009)
I always loved Fairy Tales-I remember Walt Disney on Television & then in the movies-fairy tales are really just like "real life" with just a little bit added to it as to not scare the kids too much. I do love my paranormals-i do have all of your books just haven't gotten to them yet-they are on my VERY BIG TBR pile but I'm sure I will love them.
(Joann Lord 1:47pm May 5, 2009)
I enjoyed fairy tales growing up and my favorite was Little Red Riding Hood. That's probably why my favorite genre today is Paranormal!
(Teresa Warner 1:49pm May 5, 2009)
I can't remember a lot of stories growing up. I remember Black Beauty. Also remember The Little Red Hen. I also remember a lot of your normal fairy tales like Cinderella and always loved that story.
(Gail Hurt 1:50pm May 5, 2009)
I always loved The Gift of the Magi, The Raven, and The Changeling. I would love to see a romance similar to The Gift of the Magi.
(Kelli Jo Calvert 3:46pm May 5, 2009)
Virginia, I love your series. I love Fairy Tales and Goddess myths in particular. I agree that women today and young women in particular need empowerment. I have enjoyed all of P.C. Cast's Goddess books as well. There has been a great deal of illness and loss in my life and the lives of many of my loved ones and dear friends, so I love romance novels and the happiness in them. Those who don't read romance novels are really missing out on a great deal of pleasure and happiness. That's a shame, we should all find all the happiness we can in life.
(Kay Martinez 4:29pm May 5, 2009)
I love the idea of a fairy tale for grown ups. When I real a book like that, I like to believe that in some other universe, things like that really do come true.
(Robin McKay 5:24pm May 5, 2009)
Kelli Jo, I don't know the story of the Raven. Unless you mean Edgar Allan Poe? Which has that sort of dark fantasy feel.

Kay, thanks so much!

Robin, it's very easy for me to believe in some of the old Celtic tales. Of course, the people then lived much closer to nature than we do. Maybe we could learn from them to show more respect to the earth and sea.
(Virginia Kantra 5:37pm May 5, 2009)
I liked reading fairy tales growing up, like Rapunzel and the like. I also liked reading spooky books like Goosebumps and sci-fi like Animorphs. And Edgar Allan Poe. I've always been drawn to his works.
(Ashley Madden 8:28pm May 5, 2009)
Sea Lord sounds great!
(Amy Smith 9:23pm May 5, 2009)
I've always been a huge fan of fairy tales and remakes of fairy tales. I somehow missed Lang's rainbow set of fairy tales you mentioned and will see if I can track them down. In the meantime, I think I'll dive into the fairy tale collection sitting on my shelf. Thanks for the reminder!
(Penny Rader 9:29pm May 5, 2009)
I always loved Beauty & The Beast! There's just something about that in a romance book that is perfect!

Too many may not have heard of this one, but it was The Great Sea Serpent of Hans Christian Andersen. I love reading his! I used to have a collection and I let someone borrow so I must get again!
(Cathie Morton 10:26pm May 5, 2009)
I wonder if there's been a retelling of Rapunzel? Anybody?

Amy, thanks!

Penny, The Lang books are amazing. They originally came out in the early 1900s, I think. While some of the stories have been simplified, for sheer breadth they can't be beat. And the illustrations are fabulous.

Cathie, I'll have to look for that Andersen sea serpent tale. Should be right up my alley. ;)
(Virginia Kantra 10:35pm May 5, 2009)
Beauty and the Beast has always been
my favorite. The variations can be
endless. The "Beast" damaged and hurt
and the "Beauty" who sees past the
facade to the heart and soul
underneath. Works if you are a prince
or an auto mechanic/a princess or a
waitress. Exotic locals and characters
are nice, but real is OK too.
(Patricia Barraclough 11:20pm May 5, 2009)
Sorry, kind of a PS. Sea Lord sounds like
a really interesting book.
(Patricia Barraclough 11:21pm May 5, 2009)
I have never read these books, but now I can't wait to.
(Patsy Hagen 2:57pm May 19, 2009)
Registered users may leave comments.
Log in or register now!