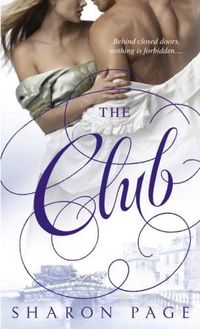 Purchase
Behind closed doors, nothing is forbidden...
Dell
March 2009
On Sale: February 24, 2009
Featuring: Christian Sutcliffe; Jane St. Giles
416 pages
ISBN: 0440244900
EAN: 9780440244905
Mass Market Paperback
$6.99
Add to Wish List

Enter a world of sin, scandal, and the most forbidden pleasures. Enter the seductive world of award-winning author Sharon Page, whose new novel will take your breath away with a tantalizing blend of Regency romance and erotic thrills.

It is London's most secretive gentlemen's club—a place where no well-bred lady would dare to be seen. But Lady Jane Beaumont has no choice. Her friend Del has vanished, and Jane must enter into a dangerous charade to find her. Now, within the gilded walls of this erotic lair, Jane awaits the lover she has procured for the evening. But the man who enters her bedchamber is no stranger. He is Del's brother and London's most notorious rake—a man on a rescue mission of his own. Christian is intrigued by the innocent beauty who clearly does not belong in the notorious brothel. And as the two seek out the damning secrets of the club . . . as Christian initiates Jane into the ways of true sensual pleasure, she knows she has entered the most dangerous place of all—where the price of temptation could be her heart. . . .
Comments
25 comments posted.
Re: The Club

I got my love of reading from my mom and sister-in-laws.
I think The Club fits into the erotic category.
(Crystal Broyles 11:05am March 9, 2009)
Hi Crystal,
Thanks so much for dropping in. Perhaps it's very common for women to pass their love for reading along to others. My daughter is becoming an avid reader, and I'm thrilled.
(Sharon Page 11:44am March 9, 2009)
I'm not sure how I got my first Harlequin book, but I was in 7th grade and once I read that first one, I devoured all I could find. I would read what I had then my mon would take me to the library and I would swap them for new ones. I loved the paperback swap section. At school I would open my textbook and slip in my little paperback and read during class.
(Lisa Freeman 11:59am March 9, 2009)
When a friend of mine introduced me to Sherrilyn Kenyon's Dark-Hunter series I became addicted to them. I'm always looking for new authors and series to read.
(Teresa Warner 12:34pm March 9, 2009)
I am not sure where I got my love of reading. My mother wasn't a reader, but father was. MY older sister is a reader too. Maybe thats where it all came from. I know that I read Gone With the Wind and I was hooked.
(Gail Hurt 1:16pm March 9, 2009)
I can't put my finger on where I got my live of reading from, just what I started out reading. At 10 I discovered the Nancy Drew collection which lead to Alfred Hitchcock Mystery collection and to finallize my grandmothers Victoria Holt romances. This has continued through the years now at 54 I an still reading mysteries, suspense/romances and regencies.
(Susan Lathen 1:27pm March 9, 2009)
Hi Lisa,
I never thought about hiding a paperback in a textbook. That's brilliant. I missed lots of good reading time by not thinking of it :-)
(Sharon Page 3:15pm March 9, 2009)
Teresa,
I can see why the Dark-Hunters got you hooked. I love them myself. Dance with the Devil, with Zarek, was my personal fave.
(Sharon Page 3:16pm March 9, 2009)
Hi Gail,
Gone with the Wind was another book that hooked me on reading. Have you read any of the sequels? How do they stand up against the original?
(Sharon Page 3:18pm March 9, 2009)
Susan,
I was a Nancy Drew fan too, and now my daughter is interested. And I adored Victoria Holt! My mother-in-law would get large print versions, and I'd wake up early to have the chance to read them before she wanted them back.
(Sharon Page 3:19pm March 9, 2009)
Both my parent's were avid readers, encouraging us to read often. Romance stories are my passion, and I think that The Club might fit the sensual romance category.
(Cathy MacDonald 3:44pm March 9, 2009)
:) My mom got me to reading too. She would read to me when I was smaller, always took me to the library every Friday, and when I was older would recommend authors. Now that I work in a library, I bring her books home! She hasn't had to go to the library or go to a bookstore in the six years I've worked at the library but always has a steady stream of books. :)

Loved your article!

I would say your books kind of go more toward the sensual side...I guess I think of "erotic" books to have little story and yours seems to have a well developed story.

Good luck with your new release!
(Rachael Grime 4:00pm March 9, 2009)
My mother has always been a great reader. When we were young we had to join the summer reading program at the library and my mother made us each read a minimum amount of books each summer.
(Maureen Emmons 5:04pm March 9, 2009)
My whole family started me on reading. I remember going to the library every Saturday morning with my mom, and when I finally turned six, I got my own library card! And that was nearly 50 years ago! I said nearly!
(Nikki Hilton 6:35pm March 9, 2009)
I got my love of readingfrom my Mom. We enjoyed our walks to the Library every week. I went thru the Nancy Drew series and from there went on to mysteries. I now read at least four different books at a time. Teresa Ward
(Teresa Ward 7:13pm March 9, 2009)
Rachel,
Thanks so much. I remember my mom taking me to the library. Even when we would travel to England to visit family, we would go the local libraries. I worked in my local library as a teenager. I was supposed to shelve books, but spent too much of my time reading them, and got in trouble.
(Sharon Page 9:00pm March 9, 2009)
Maureen,
That's a great idea--to set a minimum. And the summer is such a perfect time for reading. I'm going to have to remember to keep track of my daughter's reading this summer. Both she and my son love to go--they want to take out more books than I can carry home.
(Sharon Page 9:01pm March 9, 2009)
Hi Nikki,
I remember the thrill of getting my own card :-)
(Sharon Page 9:02pm March 9, 2009)
Hi Teresa,
When I was yung, I loved the Bobbsey twins, and Enid Blyton's books such as the Famous Five. Then it was Nancy Drew and Trixie Belden. I wanted to make sure I got every book in the series.
(Sharon Page 9:05pm March 9, 2009)
Hi Sharon,

First, I wanted to say that I'm sorry to hear about your mom. It's really tough to see her change.
I have not read The Club, but it sounds like a fantastic premise.
As far as earning to love reading goes, both my parents were teachers (my mom being in English). She took us 4 kids to the library weekly. I can't remember a time I didn't
read. Now my Ma'ma' (my Dad's mom) used to have Barbara Cartland romances at her house, so whenever we'd go over there, I'd get to bring some home and then
exchange them the next visit.
Julie
(Julie Robinson 9:55pm March 9, 2009)
I also got my love of reading from my
mom. She had this huge bookshelf and I
always used to borrow and read her
books.
(M E 11:19pm March 9, 2009)
I've loved to read for as long as I can remember. Maybe I wanted to be like my brother and sister (9 and 13 years older than I respectively). My kids both love to read, now, too. My son had his first trip to Carnegie Public Library in Pittsburgh when he was two weeks old. At that point I was reading 10 HB books a week. Now I read ebooks and print books, short and long, so some weeks I must read 20, and others only 3. I always have my Palm T/X in my purse, with about 650+ books, so I never lack for something to do if I'm out and have a wait somewhere.
(Amy Toohey 10:10am March 10, 2009)
I can't remember a time when I couldn't read. The local librarians knew me by name. I was allowed to check out adult fiction long before my peers. This actually got me in trouble on an out-of-state custody visit to my father. I tried to check out a book the area librarian thought was inappropriate for my age (it didn't help that I always looked years younger than I was). Books were my favorite presents and gift cards for books are still my faves.
(Denise Powers 10:11am March 10, 2009)
I'm so sorry to hear about your mother. My grandmother had Alzheimer's and there are no words for how difficult it was to watch her change.

As to reading, my family has always been all about books. My mother's favorite book is Rebecca by Daphne Du Maurier (she even named one of our dogs Daphne) and when she gave it to me to read, it was wonderful sharing it with her. My sister, who is much older than I am, gave me the "Wrinkle in Time" trilogy when I was nine, again as a way to share what she had loved when she was my age. Those connections are so important. We still all swap books back and forth.

Oh, and I would call "The Club" a sensual romance.

I love seeing some of the authors mentioned: I have all of Agatha Christie's books. I graduated from Trixie Belden (I enjoyed Nancy Drew, but the Bobwhites were my favorite sleuths) to Agatha Christie and devoured her books. Victoria Holt! I haven't thought about her books in years, but I remember loving them.
(Michelle St. James 3:17pm March 10, 2009)
I got my love of reading from my parents. When I was a kid, I loved Nancy Drew and Trixie Belden books. When I was a teenager, I read Emilie Loring and Victoria Holt (I still have most of these books). In my twenties I discovered Rosemary Rogers and Kathleen E. Woodiwiss and I have been reading all kinds of romance books ever since.
(Anna McKenrick 11:32pm March 10, 2009)
Registered users may leave comments.
Log in or register now!