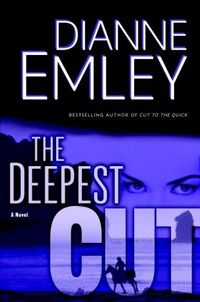 Purchase
Detective Nan Vining #3
Ballantine
March 2009
On Sale: February 24, 2009
Featuring: Nan Vining
400 pages
ISBN: 0345499522
EAN: 9780345499523
Hardcover
$24.00
Add to Wish List

Back from the dead. That's how it feels for Nan Vining–a Pasadena homicide cop, a struggling single mother, and a woman determined to find the brutal madman who left her for dead a year ago. Now, in Dianne Emley's brilliant new thriller, Nan Vining must face the truth: her attacker is still out there and he's killed at least three other women.

She has given a name to her unknown assailant: T. B. Mann–The Bad Man. On the job, Nan breaks rules and steals evidence, building a case file based on the dead certainty that T. B. Mann is obsessed with women who wear uniforms or carry guns, that he hunts them and kills them, then adorns them with a pearl necklace.

At the crime scene of her official assignment, the murder of an ex-con in a clown suit, Nan spots a graffiti tag and is sure, against all reason, that T. B. Mann was there, too. But she is fearful to share her suspicions.

Further complicating matters is Nan's developing relationship with Detective Jim Kissick. In the grip of her secret obsession, she knows that opening her heart means losing control.

Within this sprawling panorama T. B. Mann reemerges, bringing Nan to the sudden, horrifying realization that her killer has baited the perfect trap.
Smart and gut-wrenching, deeply felt and passionate, The Deepest Cut startles and astounds from the first page to the last.
Comments
10 comments posted.
Re: The Deepest Cut

Those are great tips! I'm going to copy and paste them so that I will always have them! Thanks!
(Kelli Jo Calvert 1:35pm March 13, 2009)
You're welcome, Kelli Jo. I've found them useful in my writing career. Hope you do too.
(Dianne Emley 1:45pm March 13, 2009)
Those sure aound like great rules for a writer! Some of them work for my profession too - attorney! I really enjoy series - you get hooked on the characters (good guys anyway)! Will have to look into your books!
(Martha Eskuchen 5:42pm March 13, 2009)
Good point, Martha. I had a career in business before I started writing. Wish I'd been as wise then! Lots of good guys (and creepy villains) in my books. Hope you enjoy them.
(Dianne Emley 6:21pm March 13, 2009)
Good advise. Am going to copy it and
give it to a friend who is trying to get
her first book published. Rules for
reading? If you have more than one
book going at the same time (I usually
have 3 or 4) make them different
genres. It is way to easy to have plots
and characters get confused. Right
now I have a James Paterson, a
western and a modern romance going
plus a couple of children's books.
(Patricia Barraclough 10:09pm March 13, 2009)
Great tip, Patricia. I usually can't read more than one book at a time, so I admire your ability to do that!
(Dianne Emley 11:32pm March 13, 2009)
I especially like No. 8!
(LuAnn Morgan 12:25pm March 14, 2009)
Hallelujiah on knowing the difference between good and bad advice! More power to ya! :) I also love that one of the commandments is to write every day. I'm not a writer, but I'm a happy reader and I loved this! :D
(Rachael Grime 2:39pm March 14, 2009)
LuAnn, I fear I may eventually lose my mind before I'm done... ;-)

Rachael, I've taken enough bad advice that I'm better at telling the difference between good and bad. Instincts come into play, and mine have gotten better, but they're not foolproof!
(Dianne Emley 5:11pm March 14, 2009)
Dianne,
Thank you for sharing you experience with us. LIke everyone
else, I am going to have to copy and paste this to print out and
put on my bulletin board.
Julie
(Julie Robinson 12:27pm March 15, 2009)
Registered users may leave comments.
Log in or register now!