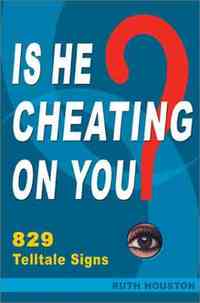 Purchase
829 Telltale Signs
Lifestyle Publications
September 2002
On Sale: September 1, 2002
192 pages
ISBN: 0972055347
EAN: 9780972055345
Paperback
$29.95
Add to Wish List

Is He Cheating on You? 829 Telltale Signs is the only infidelity book that covers practically every known sign of infidelity, including the subtle signs people usually overlook. If your mate is cheating, this book will help you find out FAST. Married or single, male or female, in a relationship with a cheater, or suspect that you are, Is He Cheating on You? can help you confirm, get proof, or even disprove what you suspect.
No matter what kind of infidelity it is sexual infidelity, emotional infidelity, cyber infidelity, workplace infidelity, financial infidelity, female infidelity, same-sex infidelity -- the signs of infidelity in Is He Cheating on You will expose your cheating mate.
NOTE: Despite the title of the book, most signs of infidelity in Is He Cheating on You? apply to cheating women and cheating men.
All signs are grouped into 21 categories so you can easily find the signs that apply to your mate. Each category has 19 to 92 telltale signs. All signs can be found using just your own eyes and ears, your personal knowledge of your mate, and the information in this book. No two cheaters display the same signs of infidelity, so knowing what to look for is the key.
Physical Appearance - 76 signs
How He Relates to You - 70 signs
Conversational Clues - 70 signs
Work Habits - 39 signs
Day-to-Day Behavior - 92 signs
Financial Affairs - 52 signs
Travel - 27 signs
Personality Changes - 36 signs
Absences - 39 signs
Telephone Tip-offs - 76 signs
Car Clues - 40 signs
Sex - 37 signs
Eating Habits - 31 signs
Smells and Tastes - 21 signs
Invasion of Your Home - 22 signs
Gifts - 19 signs
Computer Use - 30 signs
Cell Phones - 28 signs
Physical Evidence - 32 signs
Behavior Around Other Women - 71 signs
Accidental Disclosures - 57 signs
This includes:
-- Subtle signs most people usually overlook
-- Signs a cheater wouldn t think to cover up
-- Signs impossible for a cheating spouse to conceal
-- Signs to help determine the identity of the Other Woman or Other Man
-- signs a private eye is unlikely to find without your help
-- signs the cheater isn t even aware of displaying
-- hundreds of signs not found anywhere else but this book
You can t afford to be the last to know if
-- your husband or wife has already filed for a divorce
-- your mate is leaving you for their lover
-- your joint bank account have been cleaned out by a cheating spouse
-- you ve contracted HIV/AIDS or another STD
Protect yourself legally, financially, emotionally, and sexually. Find out before it s too late.
Is He Cheating on You? will serve you for many years to come. It can help if -- you suspect infidelity and want to know for sure
-- you know he or she is cheating and want to get proof
-- you gave a cheater a second chance and want to be sure they re not still cheating behind your back
-- you want to prove he or she is NOT cheating and avoid accusing an innocent mate
-- you were cheated on before and want to make sure it doesn t happen again
-- you are single and want to know the signs of a cheating date
-- you want an easy, affordable, accurate way to catch your cheating mate
-- you know someone being cheated on, and you don't want to be the bearer of bad news just give them this book
-- you want to know the signs of infidelity so you can safeguard your relationship and protect yourself from the legal, financial, emotional, and sexual damage infidelity can cause
In each case, knowing what to look for is the key and Is He Cheating on You? - 829 Telltale Signs can help.

Media Buzz
Extra - December 10, 2009
Good Morning America - August 11, 2008

Comments
No comments posted.

Registered users may leave comments.
Log in or register now!