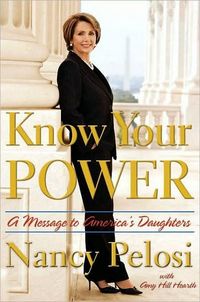 Purchase
A Message to America's Daughters
Doubleday
August 2008
On Sale: July 29, 2008
192 pages
ISBN: 0385525869
EAN: 9780385525862
Hardcover
$23.95
Add to Wish List

"Never losing faith, we waited through the many years of struggle to achieve our rights. But women weren't just waiting; women were working. Never losing faith, we worked to redeem the promise of America, that all men and women are created equal. For our daughters and our granddaughters today we have broken the marble ceiling. For our daughters and our granddaughters now the sky is the limit." —Nancy Pelosi, after being sworn in as Speaker of the House
When Nancy Pelosi became the first woman Speaker of the House, she made history. She gavelled the House to order that day on behalf of all of America's children and said, "We have made history, now let us make progress." Now she continues to inspire women everywhere in this thought- provoking collection of wise words—her own and those of the important people who played pivotal roles in her journey.
In these pages, she encourages mothers and grandmothers, daughters and granddaughters to never lose faith, to speak out and make their voices heard, to focus on what matters most and follow their dreams wherever they may lead. Perhaps the Speaker says it best herself in the Preface: "I find it humbling and deeply moving when women and girls approach me, looking for insight and advice. If women can learn from me, in the same way I learned from the women who came before me, it will make the honor of being Speaker of the House even more meaningful."
This is a truly special book to share with all the women you know. It is a keepsake to turn to again and again, whenever you need to be reminded that anything is possible when you know your power.

Media Buzz
Daily Show with Jon Stewart - April 13, 2009
Tavis Smiley - August 11, 2008
Morning Edition - July 28, 2008
The View - July 28, 2008
Anderson Cooper 360 - July 28, 2008
Daily Show with Jon Stewart - July 28, 2008
Today - July 28, 2008

Comments
No comments posted.

Registered users may leave comments.
Log in or register now!