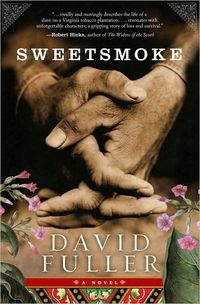 Purchase
Hyperion
September 2008
On Sale: September 1, 2008
Featuring: Cassius; Quashee; Hoke Howard
320 pages
ISBN: 1401323316
EAN: 9781401323318
Hardcover
$24.95
Add to Wish List

Multicultural African-American | Literature and Fiction Literary
The year is 1862, and the Civil War is in full flame. Cassius Howard, a slave and carpenter on a tobacco plantation, risks everything Ė extreme punishment, sale to a cotton plantation, even his life Ė to learn the truth concerning the murder of a freed black woman, a woman who secretly taught him to read and once saved his life. No one gives a damn about her small, rude, unimportant death in the midst of a brutal and hellish war. No one but Cassius, who braves unimaginable dangers to escape the plantation and avenge her death.
Sweetsmoke is Cassius's journey into knowledge, knowledge that tests him and very nearly destroys him, ultimately guiding him toward freedom.
Interviews for Sweetsmoke
Interview with David Fuller
Sweetsmoke
September 3, 2008
Comments
2 comments posted.
Re: Sweetsmoke

This is not a "young adult" book. Amazon made this mistake in categorizing, and now you have picked it up. I have read an advanced reading copy, and it's a magnificently crafted work of literature. Please change your designation, thanks! Do your adult readers a favor.
(Daniel Ostroff 5:25pm July 5, 2008)
SWEETSMOKE is a beautifully written,
must read novel for mature teens and
adults. Amazon made an error in its
designation as a "Young Adult" book.
The book's author, David Fuller, has
addressed this issue on his website
blog (sweetsmokedavidfuller.com). I
believe he's working to have Amazon
change its designation as a Young
Adult book.

I was lucky enough to get my hands
on an Advance Reader Copy (ARC) of
SWEETSMOKE. For all the older teens
and adults in search of a great read,
head to the bookstore (online or brick
and morter) or libary on August 27 to
pick up SWEETSMOKE.
(Maya Bladen 1:35am July 7, 2008)
Registered users may leave comments.
Log in or register now!