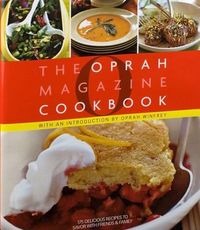 Purchase
Hyperion
May 2008
On Sale: April 29, 2008
304 pages
ISBN: 1401322603
EAN: 9781401322601
Hardcover
$29.95
Add to Wish List

Who wouldn't love to put fantastic foods on the table--extraordinary pleasures for everyday eating; simply delicious treats that can be prepared in record time; comfort food that brings family and friends together; luxurious meals that cost barely more than fast food; divine dishes perfect for guests or just for quiet nights at home? Now you can have all that and more, any time you choose, with this first-ever collection of 175 of the best recipes from O, The Oprah Magazine.
Featuring more than 60 great chefs and food writers, alongside mouth-watering photographs, this cookbook presents an exquisite array of dishes from cocktails to appetizers, main dishes to desserts, soups to sandwiches, and everything in between.
O, The Oprah Magazine Cookbook offers something for everyone--and for all types of occasions, whether you're preparing a feast or looking for a simple dish to satisfy a craving.
* APPETIZERS range from an easy to make Crostini with Wild Mushrooms and Mozzarella to Crushed Potato with Smoked Salmon, Caviar, and Chives; from elegant Grilled Sea Scallops with Tomato-Black Olive Vinaigrette to delectable Fried Green Tomato Salad with Homemade Ranch Dressing.
* INSPIRATION comes from all across the country and around the globe, and you can now enjoy at home dishes such as a tantalizingly bright bowl of Callaloo soup, Moroccan Cinnamon-Rubbed Leg of Lamb, the best Tiramisu ever, an addictive Cuban Grilled Corn on the Cob with Queso Blanco and Lime, and a crazy-delicious New Orleans Creole Gumbo.
* DESSERTS include decadent Black Currant-Tea Chocolate Truffles, amazingly simple Chocolate Pots de Crème, Heavenly Fresh Mint Ice Cream, and silky smooth Banana Pudding. For drinks? Here is a Pomegranate Daiquiri and a Strawberry Mint Iced Tea, both perfect for a summer party, and a frothy Mexican hot chocolate, the ideal thing for a cold winter night.
* ALONG WITH THE RECIPES, professional chefs and celebrated gourmands provide informative, entertaining, and vibrant lessons and advice about food and cooking--and life. Maya Angelou talks about food as a way to soothe discord, but even more important, as a joyful part of life; Gayle King describes how a true food lover can take equal pleasure from fine dining in a fancy restaurant and a casual burger joint; Marcus Samuelsson explains how travel can expand your palate; Nina Simonds brings home vital lessons from Asia about family dining; Art Smith gives inimitable advice on how to make eating outdoors easy, delicious, and fun. Other wonderful contributions come from Govind Armstrong, Leah Chase, Colin Cowie, Rozanne Gold, Michel Nischan, Susan Spungen, and Rori Trovato.
* ALSO INCLUDED are advice on brilliant pairings of wine with food and a special index that leads you right to holiday foods, snacks, vegetarian recipes, party favorites, and kid-friendly dishes.
Sixteen million readers a month turn to the recipe pages in O, The Oprah Magazine to see the featured chefs and their fabulous food as well as the gorgeous photography. Their recipes embody the spirit of O, The Oprah Magazine and will inspire you to create irresistible meals for your family and friends, both every day and on special occasions. More than a collection of recipes, this book is a guide to enjoying food, elevating every dining experience, and appreciating the special role that cooking and eating can, together, play in our lives.

Media Buzz
Oprah - July 3, 2008
Rachael Ray - June 30, 2008
Rachael Ray - May 13, 2008
Good Morning America - May 1, 2008

Comments
No comments posted.

Registered users may leave comments.
Log in or register now!