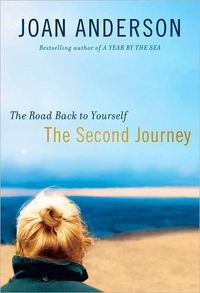 Purchase
THE ROAD BACK TO YOURSELF
Hyperion
May 2008
On Sale: April 29, 2008
224 pages
ISBN: 1401303390
EAN: 9781401303396
Hardcover
$23.95
Add to Wish List

From the bestselling author of A Year by the Sea, a true coming-of-age story for every woman who has asked herself: "Now what?"
Nearly a decade after the debut of her bestselling, life-changing classic A Year by the Sea, Joan Anderson is busy. When she's not on the road helping groups of women search for their true selves, she's working on her latest book. And when she's "not working," she's taking care of her husband, her grown children, her grandchildren, and her ninety-one-year-old mother. Joan is stretched so thin from being all things to all people that she doesn't even realize how out of control her life has become. Ironically, she finds she needs to listen to her own advice more than anyone else does. It takes a serious intervention--from her best friends, her doctor, and her husband--before she finally wakes up.
The Second Journey chronicles Joan's quest to restore her own equilibrium and find herself again. Suffused with her characteristic humor and warmth, this is a book for any woman who wants to know how to awaken her own independent spirit and set herself on a new path. Joan shares her musings on love, marriage, growing older, family, aging parents, and spirituality as she casts a watchful eye on her own life and helps readers find peace and inspiration within their own lives. She offers reassurance that the best is yet to come, and empowers other women to come of age in the middle of life.
The call to a second journey usually commences when unexpected change is thrust upon you, causing a crisis of feelings so great that you are stopped in your tracks. Personal events such as a betrayal, a diagnosis of serious illness, the death of a loved one, loss of self-esteem, a fall from power are only a few of the catalysts. A woman caught thusly has no choice but to pause, isolate, even relocate until she can reevaluate the direction in which she should head. Should she stay the course or choose another path? The goal is to come of age in the middle of life rather than live out our days lacking purpose and energy. It's all about rearranging our lives in our own image.

Media Buzz
Good Morning America - April 28, 2008

Comments
No comments posted.

Registered users may leave comments.
Log in or register now!