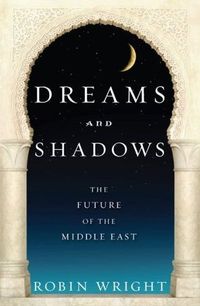 Purchase
The Future of the Middle East
Penguin
March 2008
On Sale: February 28, 2008
480 pages
ISBN: 1594201110
EAN: 9781594201110
Hardcover
$26.95
Add to Wish List

A magnificent reckoning with the extraordinary changes engulfing the Middle East, by one of our greatest reporters on the region
Robin Wright first landed in the Middle East on October 6, 1973, the day the fourth Middle East war erupted. She has covered every country and most major crises in the region since then, through to the rise of Al-Qaeda and the U.S. invasion of Iraq. For all the drama of the past, however, the region's most decisive traumas are unfolding today as the Middle East struggles to deal with trends that have already reshaped the rest of the world. And for all the darkness, there is also hope. Some of the emerging trends give cause for greater optimism about the future of the Middle East than at any time since the first Arab-Israeli War in 1948.
Dreams and Shadows is an extraordinary tour d'horizon of the new Middle East, with on-the-ground reportage of the ideas and movements driving change across the region-and the obstacles they confront. Through the powerful storytelling for which the author is famous, Dreams and Shadows ties together the players and events in Iraq, Iran, Egypt, Syria, Lebanon, Morocco, Turkey, the Gulf states, and the Palestinian territories into a coherent vision of what lies ahead.
A marvelous field report from the center of the storm, the book is animated by the characters whose stories give the region's transformation its human immediacy and urgency. It is also rich with the history that brought us to this point. It is a masterpiece of the reporter's art and a work of profound and enduring insight.

Media Buzz
Meet the Press - February 13, 2011
On Point - January 31, 2011
PBS News Hour - August 13, 2010
Diane Rehm Show - NPR - June 14, 2010
Diane Rehm Show - NPR - February 10, 2010
Anderson Cooper 360 - December 2, 2009
Good Morning America - June 13, 2009
Anderson Cooper 360 - June 4, 2009
Colbert Report - April 10, 2008
Weekend Edition Saturday - March 8, 2008
Diane Rehm Show - NPR - March 5, 2008
Charlie Rose - September 20, 2006
Larry King Live - August 7, 2006
Larry King Live - August 2, 2006

Comments
No comments posted.

Registered users may leave comments.
Log in or register now!