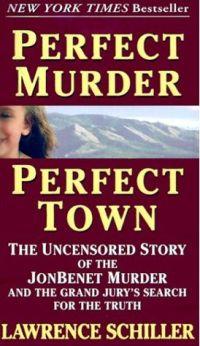 Purchase
The Uncensored Story of the JonBenet Murder and the Grand Jury's Search for the Final Truth
HarperTorch
November 1999
Featuring: Patsy Ramsey; John Ramsey
832 pages
ISBN: 0061096962
Paperback (reprint)
$7.99
Add to Wish List

Nothing written about the death of JonBenet Ramsey can possibly prepare the reader for the revelations in this book. Here, acclaimed writer Lawrence Schiller reveals for the first time the uncensored true story of the events that unfolded on Christmas night of 1996 and the unthinkable damage suffered by a community in the aftermath. This gripping, definitive account finally answers the question: What happened in the town of Boulder, Colorado?
PERFECT MURDER, PERFECT TOWN tells the story of a city at war with itself: the bitter struggle between John and Patsy Ramsey and local law enforcement; the clash between the District Attorney and the Boulder police; and the tabloid media that has taken upon itself the responsibility of issuing blame. The reader is drawn into the maelstrom of the heated arguments and rapid-fire events surrounding the investigation--the anguish, the blunders, the rivalries, the jealousies, and the peripheral victims on every side.
As he did in AMERICAN TRAGEDY, Lawrence Schiller thoroughly re-creates every aspect of this complex case in a powerful, spellbinding story drawn from recorded interviews with investigators, prosecutors, law enforcement members and their confidants, and members of the Ramsey family themselves. He uncovers the mysteries that have bewildered the nation for more than two years. Why were the Ramseys, the target of the investigation, able to obtain knowledge of critical evidence in the case and control the direction of a police inquiry? Can the answer to the murder be found in the pen and writing pad used for the ransom note? Was it possible for an intruder to have killed JonBenet that night? And what did the Ramseys tell the police and the District Attorney in more than twenty hours of questioning?
Beyond these revelations and hundreds more, PERFECT MURDER, PERFECT TOWN is a brilliant portrait of an inscrutable family thrust under the spotlight of public suspicion and an affluent, tranquil city torn apart by a crime it was not prepared to deal with. Meticulously researched and masterfully written, this is a tour de force that will be read for years to come.

Media Buzz
Early Show - September 28, 2010
Anderson Cooper 360 - October 16, 2006
Anderson Cooper 360 - August 28, 2006
Today - August 18, 2006
Today - August 17, 2006
Good Morning America - June 25, 2006

Comments
No comments posted.

Registered users may leave comments.
Log in or register now!