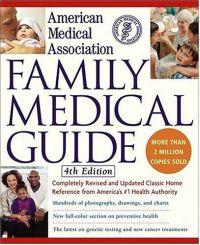 Purchase
The Long-Awaited Revision of the Bestselling Family Health Guide
4th edition
Wiley
August 2004
1136 pages
ISBN: 0471269115
Hardcover (reprint)
$45.00
Add to Wish List

The American Medical Association is the nation's premier health authority--the organization both patients and doctors look to for state-of-the-art medical information and guidance. Since its first publication in 1982, the American Medical Association Family Medical Guide has been the gold standard of home medical references for American families. The book's first three editions have sold well in excess of 2 million copies. Now, with this updated Fourth Edition, the nation's #1 health authority has completely revised its flagship guide for the first time in a decade.
This major, long-awaited revision--almost 50 percent longer than the previous edition--is brimming with up-to-date information and new features that make the book even easier to use. It offers authoritative guidance on hundreds of diseases as well as the latest tests, treatments, procedures, and drugs, and it provides new or greatly expanded coverage of weight loss, preventive health, infertility, pregnancy and childbirth, learning disabilities, genetic testing, home caregiving, and first aid, among other topics. It includes revised symptoms flowcharts, helpful Q&As, first-person case histories, 64 full-color pages including spreads on important health topics, and hundreds of new illustrations and photographs. The guide is divided into six user-friendly sections:
Part One: What You Should Know: Information to Keep You Healthy is a new four-color 32-page section that highlights the most important health issues including heart disease, cancer, osteoarthritis, and nutrition; provides tips for quitting smoking and staying healthy as you age; and presents a fully illustrated primer on genetics.
Part Two: Your Healthy Body features new chapters on topics such as diet and health, exercise and fitness, losing weight, reducing stress, staying safe, preventing violence, and complementary and alternative medicine. There's also a full-color section on preventive health care.
Part Three: First Aid and Home Caregiving describes first-aid techniques and procedures and gives step-by-step advice on how to provide quality home care for a family member who is ill, disabled, or recovering from surgery.
Part Four: What Are Your Symptoms? features a revised version of the AMA's highly popular diagnostic flowcharts, which guide you from specific symptoms through a series of questions to help you decide whether to treat yourself, make a doctor's appointment, or get immediate medical attention.
Part Five: Health Issues Throughout Life is an all-new section that covers children's health, adolescent health, sexuality, infertility, pregnancy and childbirth, and dying and death.
Part Six: Diseases, Disorders, and Other Problems covers all the body systems, featuring essential advice on hundreds of disorders of the heart and circulation, the brain and nervous system, the respiratory system, the digestive system, the immune system, the urinary tract, and the male and female reproductive systems. This part also covers hormonal disorders; emotional and mental health; cosmetic surgery; infections; behavioral disorders; genetic disorders; disorders of the bones, muscles, and joints; and problems with the ears, eyes, skin, and teeth.
Complete with descriptions of the 200 most frequently prescribed drugs and a glossary of common medical terms, the American Medical Association Family Medical Guide is an essential health reference every family needs.

Media Buzz
Early Show - June 15, 2006

Comments
No comments posted.

Registered users may leave comments.
Log in or register now!