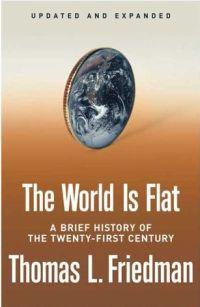 Purchase
A Brief History of the Twenty-first Century
Expanded and Updated
Farrar, Straus and Giroux
May 2006
608 pages
ISBN: 0374292795
Hardcover
$30.00
Add to Wish List

Non-Fiction Political | Non-Fiction
The World Is Flat is Thomas L. Friedman's account of the great changes taking place in our time, as lightning-swift advances in technology and communications put people all over the globe in touch as never before--creating an explosion of wealth in India and China, and challenging the rest of us to run even faster just to stay in place. This updated and expanded edition features more than a hundred pages of fresh reporting and commentary, drawn from Friedman's travels around the world and across the American heartland--from anyplace where the flattening of the world is being felt.

In The World Is Flat, Friedman at once shows "how and why globalization has now shifted into warp drive" (Robert Wright, Slate) and brilliantly demystifies the new flat world for readers, allowing them to make sense of the often bewildering scene unfolding before their eyes. With his inimitable ability to translate complex foreign policy and economic issues, he explains how the flattening of the world happened at the dawn of the twenty-first century; what it means to countries, companies, communities, and individuals; how governments and societies can, and must, adapt; and why terrorists want to stand in the way. More than ever, The World Is Flat is an essential update on globalization, its successes and discontents, powerfully illuminated by one of our most respected journalists.

Media Buzz
Good Morning America - July 23, 2008
Late Show with David Letterman - February 26, 2008
Colbert Report - September 24, 2007
Good Morning America - September 20, 2007
Today - August 16, 2007
Talk of the Nation - August 14, 2007
Good Morning America - June 15, 2007
Tavis Smiley - January 10, 2007
Meet the Press - December 17, 2006
Good Morning America - December 6, 2006
Today - November 28, 2006
NewsHour with Jim Lehrer - September 28, 2006
Imus in the Morning - August 24, 2006
Fresh Air - NPR - August 1, 2006
Colbert Report - June 20, 2006
Charlie Rose - June 12, 2006
Daily Show with Jon Stewart - June 12, 2006

Comments
No comments posted.

Registered users may leave comments.
Log in or register now!