Caroline Kennedy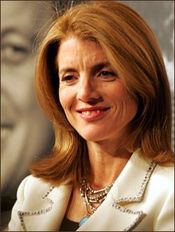 Photo Credit: Chitose Suzuki/AP Wide World

Caroline Bouvier Kennedy was born in November 1957, the second child of Jacqueline Bouvier Kennedy and Senator John F. Kennedy. (The Kennedy's first child, a daughter, was stillborn 15 months before Caroline's birth.) Her brother, John Jr., with whom she was extremely close, arrived in 1960. Together they symbolized a new age in Washington, D.C.: a young, vibrant family, headed by a charismatic, brilliant father and elegant, sophisticated mother.
But Caroline's early exposure to family tragedy shattered that idyll. First, the death of a second brother, Patrick, who was born prematurely. Then, three months later, the tragedy that shook the world: the assassination of her father, the 35th president of the United States.
Jackie and the children closed ranks, supported by Bobby Kennedy, the late president's brother. But when Bobby, too, was killed by an assassin's bullet in 1968, Jackie took decisive action. She married Aristotle Onassis, a Greek shipping tycoon, in October of that same year. This was her attempt to find for her family a measure of financial and personal security. Caroline and John attended private school on New York's Upper East Side, and spent summers on Onassis' private island, Skorpios in Greece. Jackie was determined that her children would have normal childhoods: she protected them from the intrusions of the press, and encouraged them to succeed on their own terms.
In 1972 Caroline entered Concord Academy in Massachusetts. Her interests included film, photography and social issues. In 1973 she interviewed coal miners in Tennessee for a documentary, and the following summer she visited drug rehab centers in Hong Kong and worked as an intern at her Uncle Ted's Washington office. After graduating from Concord, she studied art appreciation in London.
Caroline was drawn to the media as a career and interned at the New York Daily News in 1977. She graduated in 1979 with a degree in fine arts and began working at the Metropolitan Museum of Art, 1980. While there, she met Edwin Schlossberg, a cultural historian who was quiet, affluent, artistic and intellectual. They fell deeply in love but moved forward slowly.
She graduated from Harvard University, and then Columbia Law School. In 1986, she married Edwin Schlossberg on Cape Cod. They have 3 children, Rose born in 1988, Tatiana born in May 1990, and John Bouvier Kennedy Schlossberg, born in 1993.
She published her first book in 1990, "In Our Defense - The Bill of Rights In Action," and co-wrote her second book, "The Right To Privacy," a Constitutional study, which was published in the Fall of 1995.
Caroline continues to keep the inspiration and the memory of her father alive. In 1989 she was a co-founder of the Profiles in Courage Awards, which are given annually to politicians who perform acts of political bravery. Upon her mother's death in 1994, she assumed her place as an honorary chairwoman of the American Ballet Theatre. She is also the president of the Kennedy Library Foundation.
Tragedy struck again on 7/16/1999 when John Jr.'s plane went down into the ocean off the coast of Martha's Vineyard. During the painful first year after the loss, Caroline held fast to her Catholic faith, relatives and public duties, but kept grounded by tending to her kid's colds, homework and meals, often cooking dinner in spite of live-in help.
Though Caroline Kennedy Schlossberg inherited her mother's press-shy nature, she has always been cognizant of the legacy left by her father. The legacy of public expectation that Kennedys, often dubbed "America's Royal Family," can and will live public lives. With encouragement by her mother and brother, she has forged her own path in life. This allows her to answer her own phone, spend time with her husband, and walk her children to school.
Series
Books:
Rose Kennedy's Family Album, October 2013
Hardcover
Poems To Learn By Heart, April 2013
Hardcover
Listening In, October 2012
Hardcover
Jacqueline Kennedy, September 2011
Hardcover
She Walks In Beauty, April 2011
Hardcover
A Family Christmas, November 2007
Hardcover
A Family of Poems: My Favorite Poetry for Children, September 2005
Hardcover
The Best-Loved Poems Of Jacqueline Kennedy Onassis, September 2005
Hardcover
A Patriot's Handbook, April 2005
Paperback
Profiles in Courage for Our Time, May 2003
Trade Size
In Our Defense, March 1992
Paperback