David Housewright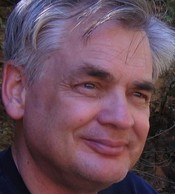 My first book was a cautionary tale about a boy who builds a rope swing despite his parents' objections, falls off as they predicted, and breaks his wrist. It was called Swinging Danger and like all first novels it was highly autobiographical.
I was ten years old.
Thus began a writing career that has taken me from covering Nine-Man football in Fergus Falls, Minnesota (where they have 287 words for "cold") to the Edgar Award ceremonies in New York.
I was one of those annoying people who always knew what he wanted to be when he grew up. What I wanted to be was a writer (for a brief period I felt I was destined to replace Rod Carew as second baseman for the Minnesota Twins, but that only lasted until I tried to hit a breaking ball).
For my twelfth birthday, my parents gave me a printing press, so naturally I started my own newspaper, Neighborhood News. I sold it door-to-door for a dime, which was good money back then (you could buy five packages of Chum Gum for that). I also worked on my high school newspaper, eventually becoming its editor when I was still a junior.
Signing copies of THE DEVIL AND THE DIVA with co-author Renee Valois.
I was fired for printing an anti-war editorial. Course you need to understand I attended an all-boys Catholic military school during the height of the Viet Nam war. Of course they fired me. You would have fired me, too.
To my astonishment, two months after I graduated from high school, I was hired by a real newspaper -- Minneapolis Tribune. I started in the sports department as a "copy boy" and quickly rose to staff correspondent, covering high school and college sports and those events the senior reporters didn't want to cover: Big Ten gymnastics, AAU swimming, World Team Tennis. I loved it! I was the toast of my class at the University of St. Thomas, where I earned a journalism degree.
Unfortunately, a full time position eluded me when a merger of the morning Tribune and the afternoon Minneapolis Star caused massive staff reductions. So after I graduated, I became a news reporter for the Albert Lea Evening Tribune in southern Minnesota. It was there that I met Holland Laak, the Freeborn County Sheriff.
Laak hated me. I was this pip-squeak reporter always asking questions he didn't want to answer. Yet I liked him. He had no sense of humor that I ever saw, but I admired the way he went about his business. He was a cop's cop; a real crime dog. I named the protagonist in my first series of books after him, even though the only things Holland Taylor and Holland Laak shared was a first name and a compulsion to put things in order that were once out of order.
In my other life I work as a free-lance advertising copywriter, occasionally creating, writing, producing and directing TV spots, among other things.
After a brief stint as a sports reporter again, this time for the Grand Forks Herald in North Dakota, I left journalism and drifted into advertising, working for several prominent Twin City agencies as a copywriter and creative director. Eventually, I became creative director and part-owner of my own shop, Gerber/Housewright, in St. Paul. Along the way I worked on campaigns for a number of national clients such as Federal Express, Miller Beer, Hormel Foods, Jim Beam, Tony's Pizza and 3M.
Series
Twin Cities P.I. Mac McKenzie
Books:
First, Kill the Lawyers, January 2019
Hardcover
Like to Die, June 2018
A McKenzie Novel
Hardcover
What the Dead Leave Behind, June 2017
Twin Cities P.I. Mac McKenzie
Hardcover
Stealing the Countess, June 2016
Twin Cities P.I. Mac McKenzie
Hardcover
Unidentified Woman #15, June 2015
Twin Cities P.I. Mac McKenzie
Hardcover
The Devil May Care, June 2014
Twin Cities P.I. Mac McKenzie
Hardcover
Curse of the Jade Lily, June 2012
A McKenzie Novel #9
Hardcover
Highway 61, June 2011
Twin Cities P.I. Mac McKenzie
Hardcover
Pretty Girl Gone, April 2007
Mac McKenzie
Mass Market Paperback