Mike Shepherd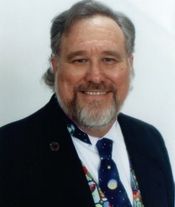 Mike Shepherd was born in the Philadelphia Navy Yard Hospital -- and left that town at the age of three days for reasons he does not presently recall. But they had to draft him to get him back there. He missed very little of the rest of the country. Growing up Navy, he lived about everywhere you could park an aircraft carrier. It wasn't until high school that he finished a year in the school he started. This gave Mike an early introduction to geography, change ... and the chain of command.
Mike was one of those college students who didn't have to worry about finding a job after graduation. In 1968, his Uncle Sam made him an offer he couldn't refuse. Two days into boot camp, the Army was wondering if they might not have been a bit hasty. Mike ended the day in the Intensive Care Unit of the local Army hospital. He didn't think he was that sick, but the only other bed free was in the maternity ward ... and he really didn't belong there. Despite most of Mike's personal war stories being limited to "How I flunked boot camp," he can still write a rollicking good military SF yarns.
Mike didn't survive all that long as a cab driver (he got lost) or bartender (he made the drinks too strong) but he figured he could at least work for the Navy Department as a budget analyst. Until he spent the whole day trying to balance the barracks accounts for paint. Finally, about quitting time, a grinning senior analyst took him aside and let him in on the secret. They'd hidden the money for refitting a battleship in that little account. Slowly it dawned on Mike that there were a few things about the Navy that even a kid who grew up in it would never understand.
Mike's next job was his break into writing. Working for the Civil Service Commission, he got to answer Congressional inquiry letters from irate people who flunked their exams. Once he even ghosted a letter for Vice President Spiro T. Agnew's signature. Shortly after that, Agnew resigned to avoid prosecution. Mike is reasonably certain that he had nothing to do with that, though, with Mike's writing, you can never be sure.
Over the next twenty years, Mike branched out into other genres, including instruction memos, policies, performance standards and even a few labor contracts. All of those, you may notice, lack a certain something. Dialogue ... those things in quotes. However, he did get his introduction to public speaking. As a training officer, he got (had) to teach such hot topics as "The Fair Labor Standards and You." "Performance Appraisals, a great way to spend quality time with your boss," and that ever popular, "The Supervisor and your New Union." This taught Mike early that there were thousands of out-of-work stand-up comics and it was a good idea to keep your day job.
In `87, Mike's big break came. He landed on a two year special project to build a digital map showing where the trees, rivers, roads, Spotted Owls and other critters were in western Oregon. The list went on and on with no end in sight and two years became ten. As the gigabytes of data and the number of revisions grew, Mike gained a new respect for the Earth's ecosystem. It hides its secrets in a massively complex system with enough chaotic tendencies thrown in to keep anyone who studies it humble.
Since there was no writing involved in his new day job, Mike had to do something to get the words out. He signed up for a writing class at Clark Community College and proudly turned in a story ... Star Wars shoots down the second coming of Christ. First person to review the story said it was as good as anything she read in Analog. (Stan didn't agree. He and every other editor in Science Fictiondom turned it down. Though fifteen years later a complete rewrite sold to Oceans of the Mind. Hmm.) The second reviewer had spent a bit more time in the class. He asked where the dialogue was, "You know, the stuff in quotes." About that time it hit Mike that writing Science Fiction might be a bit harder than negotiating a labor contract.
Two years later, Analog bought "Summer Hopes, Winter Dreams" for the March, 1991 issue. Four years later he sold his first novel. In the ten years since then, Mike's turned in twelve novels and is researching the next three.
Mike's love for Science Fiction started when he picked up "Rocket Ship Galileo" in the fifth grade, and then proceeded to read every book in the library with a rocket sticker on its spine.
Mike digs for his stories among people and change. Through his interest in history, he has traces the transformations that make us what we are today. Science launches us forward into an ever changing universe. Once upon a time, the only changes in peoples lives came with the turning of the seasons and the growing wrinkles on their brows. Today, science drives most of the changes in our daily lives. Still, we can't avoid the pressure of our own awakening hormones or hardening arteries. Mike is happiest when his stories are speeding across thin ice, balanced on the edge of two sharp blades, one anciently human, the other as new as tomorrow's research.
Trained in International Relations and history, salary administration and bargaining, theology and counseling, Mike is having a ball writing about Kris Longknife ... coming of age while the world her grand parents built threatens to crash down around her ears. These are books I think you'll love ... and my granddaughter and grandsons too!
Mike lives in Vancouver, Washington, with his wife Ellen, his mother-in-law and any visiting grandkids. He enjoys reading, writing, watching grand-children for story ideas and upgrading his computer -- all are never ending.
Log In to see more information about Mike Shepherd
Log in or register now!
Series
Vicky Peterwald | Kris Longknife
Books:
Kris Longknife: Bold, November 2016
Kris Longknife #14
Mass Market Paperback
Vicky Peterwald: Rebel, June 2016
Vicky Peterwald #3
Paperback
Survivor, June 2015
Vicky Peterwald #2
Paperback
Kris Longknife: Tenacious, November 2014
Kris Longknife #12
Paperback
Vicky Peterwald: Target, July 2014
Vicky Peterwald #1
Paperback
Kris Longknife: Defender, November 2013
Paperback
Kris Longknife: Furious, November 2012
Kris Longknife
Paperback
Kris Longknife: Daring, November 2011
Paperback
Kris Longknife: Redoubtable, November 2010
Kris Longknife#8
Mass Market Paperback
Kris Longknife: Undaunted, November 2009
Paperback
Kris Longknife: Intrepid, November 2008
Kris Longknife
Paperback
Kris Longknife: Audacious, November 2007
Kris Longknife #5
Paperback