Sasha Lord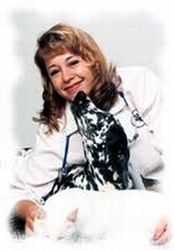 Sasha Lord has lived an exciting life since dropping out of high school and beginning her wide travels. Throughout the United States, she has been a competitive horse show jumper, a sheep rancher, a commercial fisherman, a dancer, a horse and dog trainer, a sled dog musher, and to her great delight, an accomplished small animal veterinarian.
Sasha Lord comes from an Irish-Italian family of doctors and writers. Although writing was always her first love, she graduated from Mills College in Biochemistry and Molecular Biology with honors, while also focusing on philosophy and then Cornell College of Veterinary Medicine in New York.
Although Sasha enjoyed the rigorous education, early signs pointed to her writing career. As a child, she wrote continuously, and participated in numerous literary conferences at her teacher's invitation. She once went to the principle's office for ditching school because she wanted to finish the last pages of a particularly thrilling novel.
Sasha currently owns a small animal veterinary hospital and sees dogs, cats, small mammals and reptiles. She actively supports local humane societies and animals in need by providing a fund for their care within her practice. Because of Sasha's great love of animals, all the heroines in her medieval Wild Series befriend an animal that are an integral part of her romances.
Sasha enjoys relaxing atop her favorite silver thoroughbred horse, Cashmere, and has the pleasure of raising four beautiful, energetic young children and one rambunctious toddler. Her husband is an ex-airline pilot, who now runs a hobby shop and spends his days playing with remote control cars, planes, and helicopters. Definitely an alpha male, he and Sasha have a dynamic, passionate relationship!
Series
Books:
Wild Angel, January 2008
Wild #6
Paperback
In My Wild Dream, February 2007
Wild #5
Paperback
Beyond the Wild Wind, February 2006
Wild #4
Paperback
Across a Wild Sea, February 2005
Wild #3
Paperback
In a Wild Wood, August 2004
Wild #2
Paperback
Under a Wild Sky, February 2004
Wild #1
Paperback