Wendy Wax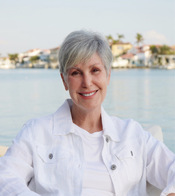 The Atlanta Journal-Constitution says USA Today bestselling author Wendy Wax "writes with breezy wit and keen insight." Her contemporary women's fiction has been compared to that of Jennifer Weiner* and Karen Joy Fowler.** Her books, A Week at the Lake, While We Were Watching Downton Abbey and her Ten Beach Road novels— One Good Thing, Sunshine Beach, The House On Mermaid Point, Ocean Beach and Ten Beach Road—have been featured in national media such as USA Today, Ladies' Home Journal, Woman's World.
Other works by Wendy Wax include Magnolia Wednesdays, The Accidental Bestseller, Hostile Makeover, Leave it to Cleavage, Single in Suburbia, 7 Days and 7 Nights and the Ten Beach Road novellas Christmas at the Beach and A Bella Flora Christmas. Many of her novels have been published internationally and as audiobooks.
A former broadcaster and the mother of two grown sons, Wendy lives in Atlanta with her husband and is doing her best to adjust to the quiet of her recently emptied nest.
Series
Ten Beach Road
Books:
Best Beach Ever, June 2018
Ten Beach Road #6
Trade Size
A Bella Flora Christmas, November 2017
Ten Beach Road Novella
e-Book
One Good Thing, May 2017
Ten Beach Road #5
Trade Size
Sunshine Beach, July 2016
Ten Beach Road #4
Trade Size
A Week at the Lake, July 2016
Mass Market Paperback (reprint)
The House at Mermaid Point, July 2015
Ten Beach Road #3
Paperback (reprint)
Christmas at the Beach, October 2013
Ten Beach Road
e-Book
While We Were Watching Downton Abbey, April 2013
Paperback
Ocean Beach, July 2012
Ten Beach Road #2
Trade Size
Ten Beach Road, May 2011
Ten Beach Road #1
Trade Size
Magnolia Wednesdays, May 2011
Mass Market Paperback (reprint)
The Accidental Bestseller, June 2010
Mass Market Paperback (reprint)
Magnolia Wednesdays, March 2010
Trade Size
The Accidental Bestseller, June 2009
Trade Size
Single in Suburbia, July 2006
Mass Market Paperback
Hostile Makeover, October 2005
Mass Market Paperback
Leave It To Cleavage, August 2004
Mass Market Paperback
7 Days and 7 Nights, July 2003
Mass Market Paperback

Videos