Laurie LeClair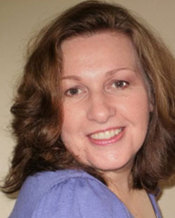 Blogging at Fresh Fiction
Laurie LeClair | Love, Laughter and Ever After
April 17, 2017
I love to write—and read—about characters who steal into my heart and linger long after the last page is turned. Cody McCall and Read More...
Bestselling author Laurie LeClair writes contemporary romance, romantic comedies, romantic suspense, and women's fiction. Laurie has a not-so-secret love for characters who make her laugh, cry, and who linger in her mind long after the story ends. Laurie's habit of daydreaming has gotten her into a few scrapes and launched her to take up her dream of writing. Finally, she can put all those stories in her head to rest as she brings them to life on the page.
Laurie loves to write, read, bake, travel and discover new adventures. She considers herself a New Texan (New England born and raised and now living in Texas). She lives in Central Texas with her husband, Jim.
Series
Once Upon A Romance | The Sweet Spot Series
Books:
The Cowboy's Runaway Bride, August 2017
The McCall Brothers #3
e-Book
Cowboy's Renegade Bride, June 2017
McCall Brothers #2
e-Book
The Cowboy's Rebellious Bride, April 2017
McCall Brothers #1
e-Book
The Dating Dilemma, October 2014
The Sweet Spot Series #1
e-Book
Awakened by a Kiss, June 2014
Once Upon A Romance #5
e-Book
Runaway Wife, May 2014
e-Book
Riley's Rules, April 2014
The Bounty Hunter Series - Book 2
e-Book
The Reluctant Beauty, March 2014
Once Upon A Romance Series - Book 4
e-Book
Wanted: Fairy Godmother, February 2014
e-Book
Murphy's Law, December 2013
The Bounty Hunter Series - Book 1
e-Book
The Long Journey Home, December 2013
e-Book
Crimes Of The Heart, November 2013
The Heart Romance Series - Book 2
e-Book (reprint)
Secrets Of The Heart, November 2013
The Heart Romance Series – Book 1
e-Book (reprint)
Lies Of The Heart, November 2013
The Heart Romance Series - Book 3
e-Book (reprint)
Waking Sleeping Beauty, October 2013
Once Upon A Romance Series - Book 2
e-Book
If The Shoe Fits, October 2013
Once Upon A Romance Series - Book 1
e-Book
Taming McGruff, October 2013
Once Upon A Romance Series - Book 3
e-Book