Judi McCoy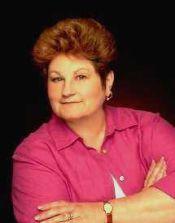 Judi McCoy passed away February, 2012
I have always felt my life has been blessed. I've been married to the same wonderful man for over thirty years (would you believe me if I said we were wed at the tender age of twelve?), raised two beautiful intelligent daughters, Sara and Carey, and spent the last twenty-three years as a women's gymnastic judge.
I have a fantastic sister named Nancy, a lovely niece, Claire, and a handsome nephew, John, as well as an assortment of aunts, uncles and cousins who all plan to come to my book signings to keep me company.
I've lived in Illinois, New Jersey, and Texas. Right now I reside in the Washington DC area, but will soon be moving to the tip of the Delmarva Peninsula and a tiny town in Virginia called Cape Charles. Besides my husband, I have two dogs, Rudy and Buckley, who keep me company, and I still judge gymnastic meets at the age group and college level whenever I can. But ever since I discovered the magic of books, about the time I was five years old, reading has been my passion.
Series
Books:
Read Humane Till Death Do Us Bark, May 2013
Paperback (reprint)
Fashion Faux Paw, March 2012
Dog Walker Mystery #6
Paperback
Till Death Do Us Bark, August 2011
A Dogwalker Mystery #5
Paperback
Begging For Trouble, March 2011
Dog Walker Mystery #4
Paperback
Death In Show, June 2010
Dog Walker #3
Paperback
Heir Of The Dog, October 2009
Dog Walker #2
Paperback
Hounding The Pavement, March 2009
Dog Walker #1
Paperback
Making Over Mr. Right, March 2008
Paperback
One Night With a Goddess, May 2007
Paperback
Almost a Goddess, May 2006
Paperback
Wanted: One Sexy Night, September 2005
Starlight Trilogy #3
Paperback
Wanted: One Special Kiss, December 2004
Starlight Trilogy #2
Paperback
Mistletoe and Mayhem, October 2004
Paperback
Wanted: One Perfect Man, January 2004
Starlight Trilogy #1
Paperback