Val Collins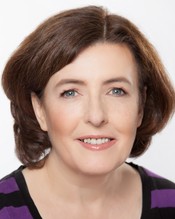 Blogging at Fresh Fiction
Meet Val Collins
January 23, 2018
I started writing when I was very young, long rambling stories that went on forever. I especially liked to rewrite the end of sad movies Read More...
My mum taught us all to read when we were three so I canít remember a time I didnít read. When I was little I lived in a tiny village in the west of Ireland and there were no book shops. Actually, there wasnít a single book for sale in the entire area. There werenít any libraries either. My dad worked in the city and he always brought us home books and comics. My mum taught me to read but it was my dad who thought me to love reading.
I had just turned 17 when I did my Leaving Cert. At that age I had no idea what I wanted to do with my life so I became a secretary. Later I did an Arts Degree in Psychology and History and eventually went on to work in HR. My years of office work were the inspiration for Girl Targeted although, of course, my characters are not based on real people.
Series
Books:
Girl Targeted, February 2018
e-Book