Sara Baysinger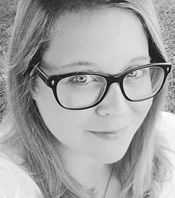 Blogging at Fresh Fiction
Sara Baysinger | Top 5 reasons I love to Write Slow-Burn Romances
March 7, 2018
When I was writing THE VANISHING SPARK OF DUSK, there was no question in my Read More...
Sara Baysinger | Why Being "Heard" by A Love Interest Matters in Books and IRL
January 15, 2018
The main theme of my newly released YA/SciFi novel, THE VANISHING SPARK OF DUSK Read More...
Sara Baysinger grew up in the heart of the Andes Mountains in Ecuador where she spent her childhood exploring uncharted lands and reading all things magical. She now lives among the endless cornfields of Indiana with her husband and two young children. Sara enjoys writing and reading anything out of the ordinary, and has a bad habit of zoning out at the most inopportune moments. She is currently considering seeking medical attention for her potentially life-threatening coffee addiction.
Series
Books:
The Vanishing Spark of Dusk, January 2018
e-Book