Anna del Mar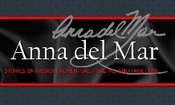 Blogging at Fresh Fiction
Anna del Mar | The Story Behind The Guardian
October 9, 2017
So I went to Africa on a non-writing, no-laptop vacation, to check off a bucket list item that entailed world-class wildlife viewing Read More...
Amazon Bestselling author Anna del Mar writes hot, smart romances that soothe the soul, challenge the mind, and satisfy the heart. Her stories focus on strong heroines struggling to find their place in the world and the brave, sexy, kickass heroes who defy their limits to protect the women they love. A Georgetown University graduate, Anna enjoys traveling, hiking, skiing, and the sea. Writing is her addiction, her drug of choice, and what she wants to do all the time. The extraordinary men and women she met during her years as a Navy wife inspire the fabulous heroes and heroines at the center of her stories. When she stays put—which doesn't happen very often—she splits her time between Colorado and Florida, where she lives with her indulgent husband and a very opinionated cat.
Series
At the Brink | Wounded Warrior
Books:
The Guardian, October 2017
Wounded Warrior #3
e-Book
Beyond the Rules, August 2017
At the Brink #3
e-Book
To the Edge, November 2016
At the Brink #2
e-Book
The Stranger, September 2016
Wounded Warrior #2
e-Book
At the Brink, May 2016
At the Brink #1
e-Book
The Asset, March 2016
Wounded Warrior #1
e-Book