Magnolia Smith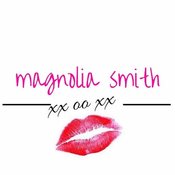 With a father who was a former member of the Vietnam-era 82nd Airborne, a cousin who was a Green Beret in the eighties and nineties, another cousin who currently works for the CIA (albeit in an administrative role) and a brother who is currently in law enforcement, is it any wonder that Magnolia grew up to marry a US Marine and write romantic suspense? With a great respect for the U.S. Armed Forces and American law enforcement, Magnolia finds they make awesome characters for her stories.
Magnolia has always been an avid reader of detective and espionage stories of all types beginning as a child reading Harriet the Spy and Nancy Drew, to much later graduating to cozy mysteries by Laura Child, mysteries solved by female sleuths written by Ellen Crosby and Nadia Gordon, to hardcore thrillers by authors like Helen MacInnes, Tom Clancy, Daniel Silva, Brad Thor and Vince Flynn.
But she also loves romance! Delving into the love lives of alpha heroes while they save the world is what Magnolia loves the most! Old school romance authors like Jackie Collins, Pat Booth and E. Lynn Harris taught her much more about love and the glamorous life than she should've known as a high schooler stealing into the adult section of her local library to find more interesting reads.
In another life Magnolia… perhaps should have been a spy, but for now she is content to live vicariously through the characters in her book. Born and raised in North Carolina, she loves to travel and has visited most of Europe and some of East Asia, however her travel bucket list continues to grow.
Magnolia has degrees in English and International Relations. She is the mother to three school-aged boys and also writes about about her eclectic mix of interests – military history, herbalism, travel, food and wine. Magnolia is not a professional cook, but she's certainly a home cook who loves to entertain. She is a self-confessed foodie and a wine aficionado who loves to share recipes and her thoughts on her favorite dishes and beverages.
She will eventually write in other genres, something more suspense and less romance but for now she is loving the romantic suspense genre. Her debut novel Tell Me No Lies publishes with Samhain on May 17, 2016. You will find her blogging, Tweeting and Facebooking… With so many ways to connect with her, how can you choose just one? Lucky for you, you don't have too.
When Magnolia is not writing, you can find her visiting vineyards and Civil War battlegrounds, watching her favorite shows: Scandal and Homeland, practicing hot yoga and blending her own herbal teas.
Magnolia is a member of International Thriller Writers and Romance Writers of America. She is represented by Holloway Literary.
Series
The Black Orchid
Books:
Tell Me No Lies, May 2016
The Black Orchid #1
e-Book