Tara Wyatt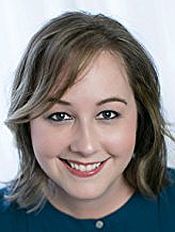 Blogging at Fresh Fiction
Tara Wyatt | Why I think consent matters in romance
February 28, 2017
There are many things I love about romance novels. The brave, hunky heroes. The smart, capable heroines. The eclectic plots, settings, and challenges the characters Read More...
Tara Wyatt is a romance author who's been making up love stories ever since she fell head over heels for the Backstreet Boys and Hanson almost twenty years ago. Not content with merely daydreaming about Nick Carter and Taylor Hanson, she grabbed a notebook and wrote what she now realizes was fan fiction.
After outgrowing her boy band obsession and obtaining an Honours B.A. in English Literature and Philosophy from McMaster University, her love of books and reading led her to pursue a Masters' degree in Library and Information Science at the University of Western Ontario. Currently, she works for a large public library system, where she has the arduous task of selecting books for children and young adults for the library's collection.
​Tara's manuscript, Off Guard (aka Necessary Risk), won first place in the single title contemporary category of the 2014 Unpublished Winter Rose contest, and in the 2014 Linda Howard Award of Excellence contest. It also finished in second place in the single title contemporary category of the 2014 Fab Five contest, the Connecticut RWA's Write Stuff contest, and the Golden Palm contest. As well, it earned an Honorable Mention in NECRWA's 2014 First Kiss contest, and was a finalist in the TARA contest, the Unpublished Molly contest, the Pages From the Heart contest, and the Heart-to-Heart contest.
Her second manuscript, ROCK ME (aka Bodyguard Series #2), won first place in the contemporary category of the Utah RWA's Heart of the West contest, and second place in the Melody of Love contest.
Series
Bodyguard | The Graysons
Books:
Take Down, November 2017
Blood and Glory #2
e-Book
Dirty Boxing, September 2017
Blood and Glory #1
e-Book
Chain Reaction, March 2017
Bodyguard #3
Paperback
When Snowflakes Fall, November 2016
The Graysons
e-Book
Like Fresh Fallen Snow, November 2016
The Grayson #2
e-Book
Dirty Work, August 2016
e-Book
Primal Instinct, June 2016
Bodyguard #2
Paperback
Necessary Risk, March 2016
Bodyguard #1
Paperback