Anita Devito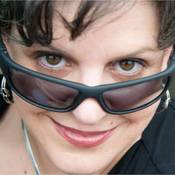 Blogging at Fresh Fiction
Anita DeVito | Secrets and Insider Info
August 1, 2017
Hello fiction fans. I'm Anita DeVito and I'm thrilled to share exclusive insider information on my latest release Read More...
Anita DeVito | Laughter: The Ties that Bind
December 12, 2016
Writing suspense is all about the tension, red herrings and zig-zags. Think you know where the story is going? WHAM. A house just fell Read More...
Anita's rapid paced storytelling style pulls readers into a parallel universe where mystery, mayhem, murder are the order of the day. Her stories are an addictive diversion, trading the heavy, gray world of real life for a fantastically colorful world where bad is good, and cool is smoking hot.
Raised on America's Rock Coast in Cleveland, Ohio, Anita was born while the river burned. Music, food and family shaped Anita's life and provide much of the fodder for her stories. Her love of mysteries and puzzle solving came from her Grandpa John, who introduced Anita to her first detective hero – Nero Wolfe. Food was as central a character in Anita's life as it was in Nero's, where Sunday dinner at Nonna's table was a command performance.
Anita has been writing scorching suspense since 2006 with stories ranging on the heat index from a "nice spicy little pepper" to "pass a mop for my forehead, please." Check out tastes of Anita's stories and like her on Facebook. Anita is a member of Sisters in Crime and Mystery Writers of America.
Series
Lost series
Books:
Lost in Deception, August 2017
Lost #3
e-Book
Lost In Shadows, December 2016
Lost #2
e-Book
Lost in Tennessee, October 2015
Lost series #1
e-Book