Lance Haynes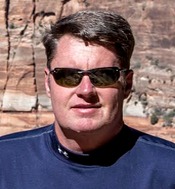 Lance Haynes was born in Rifle, Colorado. Since the age of three, he has lived in the small rural community of Celina, TX. Lance went on to attend Austin College in Sherman, TX where he earned a degree in business.
Lance worked in the investment and securities industry after college but longed for a bit more freedom. He served 10 years as a firefighter/paramedic for the City of Plano, TX. He has also published a newspaper in his hometown.
He enjoys woodworking, photography and fixing broken oilfield equipment at a woefully unproductive oil lease in Kansas where the pump jacks are shorter than him. He and his wife Cindy and their three sons continue to live in the North Texas area.
Series
The Solar Maximum Novels
Books:
One More: A Solar Maximum Novel, April 2015
The Solar Maximum Novels #1
Paperback