Sheri Cobb South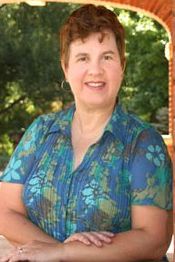 Blogging at Fresh Fiction
Sheri Cobb South | Moonlighting in Regency England
March 7, 2017
When I first conceived the idea for a romantic mystery series set in Regency England, I had no idea how many books it would run Read More...
Sheri Cobb South | Family Plot
November 24, 2014
As a writer of fiction, I tend to spend a good deal of time in an imaginary world of my own creation; that seems to Read More...
At the age of sixteen, Sheri Cobb South discovered Georgette Heyer, and came to the startling realization that she had been born into the wrong century. Although she doubtless would have been a chambermaid had she actually lived in Regency England, that didn't stop her from fantasizing about waltzing the night away in the arms of a handsome, wealthy, and titled gentleman. Since Georgette Heyer was dead and could not write any more Regencies, Ms. South came to the conclusion she would simply have to do it herself. In addition to her popular series of Regency mysteries featuring idealistic young Bow Street Runner John Pickett (described by All About Romance as "a little young, but wholly delectable"), she is the award-winning author of several Regency romances, including the critically acclaimed The Weaver Takes a Wife. A native and long-time resident of Alabama, Ms. South recently moved to Loveland, Colorado, where she has a stunning view of Long's Peak from her office window.
Series
John Pickett
Books:
For Deader or Worse, March 2017
John Pickett mysteries #6
Paperback
Too Hot To Handle, July 2016
John Pickett mysteries #5
Hardcover
Dinner Most Deadly, September 2015
John Pickett mysteries #4
Hardcover
Family Plot, December 2014
John Pickett Mystery
Hardcover
A Dead Bore, July 2012
John Pickett mysteries #2
Paperback
In Milady's Chamber, December 2011
John Pickett mysteries #1
Paperback