Shannon & Thompson Family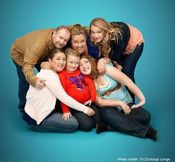 June "Mama" Shannon: Mother of four (and grandmother of one) and the matriarch of this family. Loves giving back to the community, all forms of thriftiness, bingo, tracking down roadkill.
Mike "Sugar Bear" Thompson: Father of Alana, works at a chalk mine. Tobacco dipper, four-wheeler rider and volunteer firefighter.
Anna "Chickadee" Shannon: Older sister of Alana and June's eldest daughter. Mother of baby Kaitlyn. An expert at Guess Whose Breath?, she is attempting to be the first in her family to graduate from high school.
Jessica "Chubbs" Shannon: Older sister of Alana and second daughter of June. Described by June as the most responsible of her daughters, she's involved in ROTC and wants to be a nurse when she grows up. She's Alana's BFF.
Lauryn "Pumpkin" Shannon: Older sister of Alana and June's third daughter. Origin of her nickname is her favorite and recurring Halloween costume.
Alana "Honey Boo Boo" Thompson: Mama June's youngest child and Sugar Bear's only child. Definitely the most sassified of all the girls. Girl Scout, pageant queen, elementary school attendee. You betta redneckognize!
Baby Kaitlyn Elizabeth: Daughter of Anna and first granddaughter of Mama June and Sugar Bear. She shares the same middle name as June and got her ears pierced the same day as Alana. She has been in one pageant already.
Series
Books:
How to Honey Boo Boo, July 2013
Paperback