Sandra Harris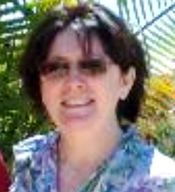 Blogging at Fresh Fiction
Sandra Harris | Do you judge a person by their skin?
July 25, 2013
My hero, General Eugen Mhartak, doesn't. The heroine, Sandrea Fairbairn, is a human, a species he's never encountered before. An alien. Her pale Read More...
I first put pen to paper with the intention of writing a fantasy story way back in 1987. And I do mean pen to paper, back then I could find the 'zone' more easily by creating the words with my hand as well as my head. I began the exercise as a hobby and over the next 20 years managed to create a one hundred and fifty thousand word fantasy. Quite some time to write a book, I know, but not finishing never entered my head. How to finish certainly proved something of a challenge. In 2009 a friend suggested I join the wonderful RWAus (Romance Writers of Australia) group and in 2010 I attended my first conference. The support and inspiration received from the members of this great organisation help me recognize that writing is not only the journey, but the destination as well. In 2012 I volunteered to contest manage the RWAus STALI (Single Title And Loving It). An interesting experience to say the least. The amount of work that goes on behind the scenes is exceptional and I take my hat off to contest managers everywhere.
Series
Books:
Alien, Mine, June 2013
e-Book