Catherine Bybee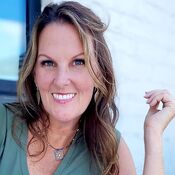 Blogging at Fresh Fiction
Exclusive Excerpt: NOT QUITE CRAZY by Catherine Bybee
March 14, 2018
Owen laughed every time he looked at her. The swelling had reached its height by Sunday morning, and by the afternoon the red and Read More...
Exclusive Excerpt: Fool Me Once
September 20, 2017
Ready for a sneak peek? Fool Me Once by Catherine Bybee "You're American, right?" The married and Read More...
Exclusive Excerpt: MAKING IT RIGHT by Catherine Bybee
May 9, 2017
At Marly's, Jo hit pay dirt. Loud and smoky despite the laws suggesting people not smoke indoors, and littered with hard Read More...
Catherine Bybee | Top 5 Best Things About Returning Home
January 31, 2017
After being voted Most Likely To Never Leave River Bend, Zoe Brown from STAYING FOR GOOD Read More...
Catherine Bybee | From the Desk of Hunter Blackwell
August 19, 2015
From the desk of Hunter Blackwell: When hunting for a wife, it helps to have many zeros in your bank account. I suppose Read More...
New York Times bestselling author Catherine Bybee was raised in Washington State, but after graduating from high school, she moved to Southern California with the hope of becoming a movie star. After growing bored with waiting tables, she returned to school and became a registered nurse, spending most of her career in urban emergency rooms. Now, she writes full-time. She has penned the popular Weekday Brides series as well as the beloved Not Quite series. She resides in Southern California with her two sons.
Series
Weekday Brides | Most Likely To series | Not Quite | First Wives
Books:
Half Empty, August 2018
First Wives #2
Trade Size
Not Quite Crazy, March 2018
Not Quite Series #6
Trade Size
Fool Me Once, September 2017
First Wives
Trade Size
Making It Right, May 2017
Trade Size
Staying for Good, February 2017
Most Likely To #2
Paperback
Not Quite Perfect, September 2016
Not Quite #5
Paperback
Doing It Over, April 2016
Most Likely To Series #1
Paperback
Treasured by Thursday, August 2015
Weekday Brides #7
Paperback
Seduced By Sunday, April 2015
Weekday Brides #6
Paperback
Not Quite Forever, November 2014
Not Quite
Paperback
Taken By Tuesday, August 2014
Weekday Brides #5
Paperback
Single By Saturday, January 2014
Weekday Brides #4
Paperback
Fiancé by Friday, August 2013
Weekday Brides #3
Paperback
Not Quite Mine, May 2013
Not Quite
Paperback
Married by Monday, March 2013
Weekday Brides #2
Paperback
Wife by Wednesday, February 2013
Weekday Brides #1
Paperback