Sydney Landon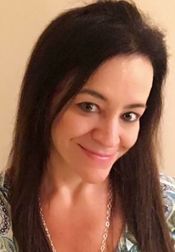 Blogging at Fresh Fiction
Sydney Landon | My lessons learned from Self-Publishing
November 12, 2012
One of the most frequent questions that I have been asked since signing with Penguin Publishing is what is it like to go from Read More...
Sydney Landon lives in Greenville, South Carolina and has spent the last twenty–five years working in accounting. Sydney met her own prince charming in 2000 and received the most romantic proposal on a pier in Myrtle Beach, South Carolina, thus creating her eternal love for the city. The fact that her future husband was a fellow computer geek completely sealed the deal for her. She credits him with keeping her calm and rational while also understanding her need for a new pair of shoes every other week. They have two children who keep life interesting and borderline insane, but never boring. When she isn't writing, Sydney enjoys reading, swimming and being a mini–van driving, soccer mom.
Series
Danvers | Breakfast in Bed
Books:
Room for Two, February 2018
Breakfast in Bed #2
Mass Market Paperback
Keeping It Hot, July 2017
Breakfast in Bed #1
Mass Market Paperback
Wishing For Us, November 2016
Danvers #9
Mass Market Paperback
The One For Me, February 2016
Danvers #8
Paperback
Watch Over Me, September 2015
Danvers #7
Paperback
Always Loving You, February 2015
Danvers #6
Paperback
No Denying You, December 2014
Danvers #5
Paperback
Betting on You, February 2014
Danvers
e-Book
Fighting For You, October 2013
A Danvers Novel #4
Mass Market Paperback
Fall For Me, March 2013
Danvers #3
Paperback
Not Planning On You, February 2013
A Danvers Novel #2
Mass Market Paperback
Weekends Required, January 2013
Paperback
Weekends Required, October 2012
A Danvers Novel
e-Book