Lorraine Wallace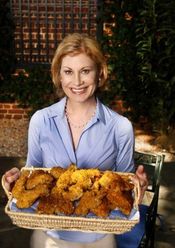 Lorraine Wallace has turned a passion to feed her family with healthy, delicious meals into a new career as a best-selling author of cookbooks. She took her tradition of giving her husband Chris homemade soups after he anchors "Fox News Sunday" and wrote "Mr. Sunday's Soups." Now, she shares another tradition in the Wallace home--"Mr. Sunday's Saturday Chicken."
In 1997, she married Chris and moved from Virginia horse country to Washington, D.C. With Chris' four children from a previous marriage and two of her own, Lorraine had her hands full bringing the two families together. Many of the key moments that helped the family bond were around the kitchen table, where Lorraine fed her extended family.
In "Saturday Chicken," she tells more stories and offers dozens of recipes that worked for her family, and she hopes, will work for yours.
Series
Books:
Mr. Sunday's Saturday Night Chicken, May 2012
Hardcover