C.M. Wendelboe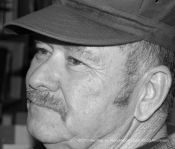 Photo Credit: Heather M. Wendelboe

Blogging at Fresh Fiction
C. M. Wendelboe | Writing Truths in a Fictional World
August 12, 2013
I write mysteries involving Indians, or what most folks collectively refer to as "Native Americans." I made a conscious decision when beginning the Read More...
C.M. Wendelboe | Confession Of A Lazy Writer
September 1, 2012
I spend hours upon hours in front of the computer screen putting together scenes and working through character interactions; patching plot holes and fleshing out Read More...
C. M. Wendelboe entered the law enforcement profession when he was discharged from the Marines as the Vietnam war was winding down.
In the 1970s he worked in South Dakota towns bordering three Indian reservations. The initial one-third of his career included assisting federal and tribal law enforcement agencies embroiled in conflicts with American Indian Movement activists in other towns and on other reservations, including Pine Ridge.
He moved to Gillette, Wyoming, and found his niche, where he remained a sheriff's deputy for over twenty-five years. In addition, he was a longtime firearms instructor at the local college and within the community.
During his thirty-eight-year career in law enforcement he had served successful stints as police chief, policy adviser, and other supervisory roles for several agencies. Yet he always has felt most proud of "working the street." He was a patrol supervisor when he retired to pursue his true vocation as a fiction writer.
Wendelboe now revisits the Pine Ridge Reservation for research and recreation. He lives within a morning's drive of Devils Tower, Bear Butte, the Black Hills, and the Badlands—"tourist sites" that are sacred places to the Lakota people. The distance of geography and expanse of time has accorded him an appreciation of their culture and spirituality. His developing awareness of their diverse perspectives on historical and contemporary issues is reflected in the themes of his Spirit Road Mysteries.
Series
Spirit Road | Manny Tanno
Books:
Hunting the Saturday Night Strangler, October 2018
Paperback
Death on the Greasy Grass, June 2013
Manny Tanno #3
Paperback
Death Where The Bad Rocks Live, September 2012
Spirit Road #2
Paperback
Death Along the Spirit Road, March 2011
Manny Tanno #1
Paperback