Tiffany Truitt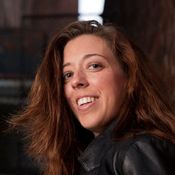 Blogging at Fresh Fiction
Tiffany Truitt | Whatís the Deal with First Loves?
September 20, 2017
Weíve all heard the old saying: Youíll always remember your first love. As I get a little older and wiser (I hope), I Read More...
Tiffany Truitt | Why Dystopian? Why Now?
June 8, 2012
Yep. I'm an author. Yep. I have a novel coming out on June 12th. Yep. It's a dystopian. Yep. Yet, another Read More...
Tiffany Truitt lives with her Netflix and junk food in Virginia. She is a graduate from Longwood University with a masterís in Literature from Old Dominion University. Previously she has worked in the realm of Young Adult literature having written The Lost Souls Series, Because you Exist, and The Language of Silence. Her first New Adult novel, Seven Ways to Lose Your Heart, was release last year.
Series
Books:
Royal Attraction, September 2017
e-Book
Seven Ways to Lose Your Heart, July 2016
e-Book
Creators, April 2014
Lost Souls Book #3
e-Book
Chosen Ones, June 2012
Lost Souls
Trade Size

Videos
Click Title to Play
Chosen Ones