Philip Reeve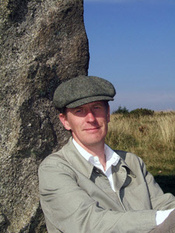 Philip Reeve was born in Brighton in 1966. He has one younger sister. He wrote his first story at the tender age of five; it was about a spaceman called Spike and his dog Spook. He went to St Luke's School in Queens Park, Brighton where he enjoyed writing, drawing, history and acting, and didn't enjoy maths, P.E. or getting duffed up. His early influences included Oliver Postgate, Jackanory, Blue Peter, Asterix, Look and Learn, Swallows and Amazons, Airfix models, Whizzer and Chips, Rosemary Sutcliff, Action Man, JRR Tolkein, Star Wars, biscuits, bikes and boats.
Later he went to Stanley Deason Secondary School in Whitehawk, next door to, and largely indistinguishable from, Brighton's municipal tip. There he continued to enjoy writing, drawing, history and acting and quite liked science but still wasn't keen on maths, P.E. or getting duffed up. During his stay he became interested in illustration, Arthurian legend and making ultra-low-budget films on Super 8mm cine film. As a teenager he went on to study for A Levels at Varndean Sixth Form College where he persisted in his enjoyment of writing, drawing, history and acting, but still didn't like maths. No P.E. or getting duffed up was involved.
Then it was Ho! for art college; a Foundation Course at Brighton followed by a two year diploma at Cambridgeshire College of Arts and Technology which has since changed its name to something else, possibly in an effort to shake off the shame of ever having sheltered him. Three years as an art student having rendered him basically unemployable, he returned to Brighton, there to work in a small independent bookshop while pursuing various non-paying sidelines as writer/producer/director of low budget film and comedy projects in his spare time. Towards the end of this time he co-wrote a musical, The Ministry of Biscuits, with writer and composer Brian Mitchell, but was eventually forced by lack of funds to track down some cartooning work and finally entered the wonderful world of the freelance illustrator in the early 1990s. There he was to remain for several years, providing the pictures for several Horrible Histories, lots of Murderous Maths and sundry other hilarious and improving books.
Since his spare time was no longer big enough to accommodate film and comedy projects he turned to writing novels, the first of which, Mortal Engines, was published in 2001. It won the Smarties Gold Award, the Blue Peter Book of the Year Award and the Blue Peter 'Book I Couldn't Put Down' Award, a surprise which prompted him to say 'Bl**dy H*ll!" to Jaqueline Wilson in front of millions of viewers, offending any among them who could lip-read; small wonder that he never got a Blue Peter Badge. Four sequels to Mortal Engines followed, the last of which, A Darkling Plain, won both the Guardian Children's Fiction Prize and the Los Angeles Times Book Award. There has also been a trilogy of steam-powered Victorian space adventures, Larklight, Starcross and Mothstorm, and a novel set in Dark Age Britain called Here Lies Arthur which won the Carnegie Medal 2008. His latest novel, Fever Crumb, returns to the world of Mortal Engines; the next, No Such Thing As Dragons, will be an every day story of fake mediaeval dragon hunters.
Philip and his wife Sarah moved from Brighton to Devon in 1998, and now live on Dartmoor, where their son Sam was born in 2002.
Log In to see more information about Philip Reeve
Log in or register now!
Series
Books:
Scrivener\'s Moon (Fever Crumb, Book 3), December 2018
Paperback
Mortal Engines: Movie Tie-in Edition, September 2018
Paperback
Night Flights: A Mortal Engines Collection, September 2018
Paperback
Railhead, April 2016
Hardcover
Scrivener's Moon, November 2012
Fever Crumb #3
Hardcover