Lena Diaz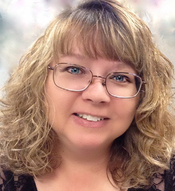 Lena Diaz writes romantic suspense thrillers.
Lena grew up a Navy Brat, but while two of her three siblings followed her fatherís footsteps and joined the Navy, Lena loosely followed her musically talented motherís footsteps by choosing a more creative path, writing.
She wrote her first short-story in middle school. This fifty-page tale about a horse race had a wide fan-base, her entire eighth grade class. Lena likes to think they read it because it was so good. But she admits the popularity might have been because her teacher let the kids choose her book for a book report assignment and it was the shortest book on the reading list.
Her first novel-length manuscripts were paranormals ranging from contemporary vampire stories to medieval druid tales. Since dead bodies kept creeping into everything she wrote, she eventually turned to romantic suspense, her current passion.
Since being a Navy Brat means moving Ė a lot Ė Lena went to ten different schools in four different states (Kentucky, California, Louisiana, and Florida). But no matter where she lived during her childhood, her father always made a point of taking the family back home to Kentucky every summer to spend several weeks visiting her rather large extended family.
Thatís why Lena considers herself a Country Girl even though she currently lives in a city in North Florida. Her fondest childhood memories are of her auntís farm where Lena spent her time feeding calves from a bottle, running from billy goats by the catfish pond, and dressing piglets in baby doll clothes.
Today Lena can be found in North Florida with her husband of twenty-plus years.
Series
EXIT Inc. | Tennessee SWAT
Books:
SWAT Standoff, June 2018
Tennessee SWAT #5
Mass Market Paperback
Stranded With The Detective, May 2018
Tennessee SWAT #4
Paperback
Secret Stalker, March 2017
Tennessee SWAT #3
Mass Market Paperback
Final Exit, February 2017
EXIT Inc. Thriller
Mass Market Paperback
Mountain Witness, January 2017
Tennessee SWAT #2
Mass Market Paperback
No Exit, February 2016
EXIT Inc. #2
Paperback
Missing in the Glades, November 2015
Marshland Justice #1
Paperback
Exit Strategy, July 2015
EXIT Inc. #1
Paperback
Take the Key and Lock Her Up, August 2014
e-Book
Tennessee Takedown, January 2014
Tennessee SWAT #1
Mass Market Paperback
Ashes, Ashes, They All Fall Dead, September 2013
e-Book
The Marshal's Witness, February 2013
Paperback
Simon Says Die, April 2012
e-Book