Tosca Lee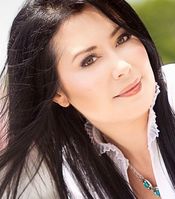 Blogging at Fresh Fiction
Tosca Lee | Chasing the Weird
May 12, 2017
The other day my son was talking about all the things (for good or bad) you can learn to do or make online. ďCareful that Read More...
Tosca Lee is the award-winning, New York Times bestselling author of THE PROGENY, ISCARIOT, THE LEGEND OF SHEBA, DEMON: A MEMOIR, HAVAH: THE STORY OF EVE, and the Books of Mortals series with New York Times bestseller Ted Dekker (FORBIDDEN, MORTAL, SOVEREIGN). A notorious night-owl, she loves watching TV, eating bacon, playing video games and football with her kids, and sending cheesy texts to her husband.
Interviews for Tosca Lee
Tosca Lee | On The Blood Countess Elizabeth Bathory, Traveling, and Suspense
The Progeny
June 2, 2016
Series
Descendants of the House of Bathory | Books of Mortals
Books:
Firstborn, March 2018
Descendants of the House of Bathory #2
Trade Size
Firstborn, May 2017
Descendants of the House of Bathory #2
Hardcover
The Progeny, June 2016
Descendants of the House of Bathory
Hardcover
The Legend of Sheba, May 2015
Paperback
Iscariot, January 2014
Paperback
Sovereign, October 2013
Paperback
Sovereign, June 2013
Books of Mortals #3
Hardcover
Mortal, October 2012
Paperback
Mortal, June 2012
Books of Mortals #2
Hardcover
Forbidden, May 2012
Books of Mortals #1
Paperback (reprint)
Forbidden, September 2011
Books of Mortals #1
Hardcover
Havah, October 2010
Paperback
Demon: A Memoir, June 2007
Paperback