Marcus Wohlsen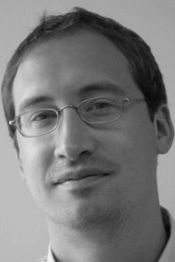 Me: I'm a reporter for The Associated Press in San Francisco, where I've covered biotech, DIY science, Bay Area environmental problems and piles of breaking news. Most recently I've been covering the Northern California marijuana industry, which never fails to serve up a great, goofy mix of science, politics, entrepreneurship, crime and cultural conflict.
I grew up in Pennsyvania Dutch Country, went to public schools and was an English major at Harvard, where I wrote my senior thesis on Victorian poetical proto-punk Gerard Manley Hopkins. I was a Web monkey in New York during the first dot-com boom and left the city not long after 9/11 for the Blue Ridge Mountains of North Carolina. I waited tables and started my writing career proper, trekking the hills and covering the many issues that crop up over who gets to do what with wilderness.
My wife and I moved west in 2004, when I started at the UC Berkeley Graduate School of Journalism. I studied science writing with Michael Pollan and began working at the AP soon after graduation.
The book: I wrote a 600-word story for the AP that ran the day after Christmas 2008 about a do-it-yourself genetic engineer with a kitchen lab and a grand plan to protect the world's food supply with jellyfish genes and yogurt. The article exploded across the Internet, and a few weeks later my now-agent Michael Bourret got in touch and said he wanted to know more _ a book's-worth more.
Biopunk: DIY Scientists Hack the Software of Life recounts my deep dive into the world of DIY DNA. My adventure took me from open-source software to bioterror to the quest to build new forms of life piece by genetic piece. At least as intriguing to me as the biology was the drive of these young scientists to forge new ways of thinking about how change and discovery happen in science, and about who gets to decide the way forward.
Even after several years in the Bay Area, I had still thought of "innovation" and "entrepreneurship" as code words for "let's make lots of money." In the mouths of many, they still are. Among the biopunks, I discovered a community of idealists who believed that that entrepreneurial thinking joined with a desire for authentic innovation could be a strategy for dramatic social change.
Log In to see more information about Marcus Wohlsen
Log in or register now!
Series
Books:
Biopunk, April 2011
Hardcover