Wendy S. Marcus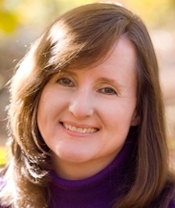 Blogging at Fresh Fiction
Wendy S. Marcus | A Day in the Life of a Crazily Obsessed, Easily Distracted, Newly Published Author
July 14, 2011
Hello Fresh Fiction Fans! My name is Wendy S. Marcus. Thank you for joining me Read More...
Wendy S. Marcus is not a lifelong reader. As a child, she never burrowed under her covers with a flashlight and a good book. In senior English, she skimmed the classics, reading the bare minimum required to pass the class. Wendy found her love of reading later in life, in a box of old paperbacks at a school fundraiser where she was introduced to the romance genre in the form of a Harlequin Superromance. Since that first book, she's been a voracious reader of romance often times staying up way too late to reach the happy ending before letting herself go to sleep.
A nurse by trade, Wendy earned her Bachelor of Science degree in nursing from State University of New York at Plattsburgh and her Master of Science degree in Health Care Administration from Western Connecticut State University. After years of working in the medical profession, including the last ten years managing her own healthcare consulting business, she's taken a radical turn to writing hot contemporary romances with strong heroes, feisty heroines, and lots of laughs.
Wendy lives in upstate New York with her husband, two of her three children, and a much loved Bichon Frise named Buddy. When she's not writing, she enjoys reading, spending time with family, and e-mailing/blogging with her online friends.
Series
Books:
All I Need is You, October 2015
e-Book
Loving You is Easy, December 2014
e-Book
The V-Spot, October 2014
e-Book
NYC Angels: Tempting Nurse Scarlet, May 2013
NYC Angels
Mass Market Paperback
Secrets of a Shy Socialite, February 2013
Mass Market Paperback
Craving Her Soldier's Touch, February 2013
Mass Market Paperback
The Nurse's Not -So- Secret Scandal, May 2012
Madrin Memorial Hospital #3
Paperback
Once A Good Girl, December 2011
Madrin Memorial Hospital #2
Paperback
When One Night Isn't Enough, July 2011
Paperback