Candice Kumai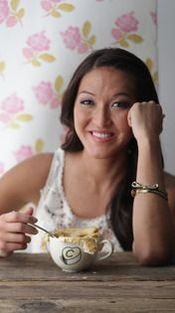 Candice Kumai, coined the next inspiring food guru of her generation, encourages men and women of all ages obtain optimum health and wellness through their food. Culture, quality, balance and moderation are her guiding principles for great food and a happy life. There's no need to skimp out on a fabulous lifestyle with Candice Kumai's principles. It's all about living the fab life on a budget, because you can have it all.
Candice's mission is to help all of us 'get real with our foods again'. Through farm to table initiatives and going back to the soil, an understanding of where our food comes helps us all take better care of ourselves. Pretty Delicious is a fun (and stylish!) call to action, teaching you how to nurture yourself and your family with recipes that get back to basics of cooking, just as Grandma did!
After falling in love with her on the premiere season of Bravo's Top Chef, Candice Kumai the founder and creative artist behind www.StilettoChef.com became the Host of Lifetimes hit series, "Cook Yourself Thin" and contributing writer to the #1 New York Times bestseller, "Cook Yourself Thin: Skinny Meals You Can Make in Minutes." She is currently the newest host to TLC's "Home Made Simple", food TV personality for Cooking Channel's "Unique Eats" and writes for various food and lifestyle publications.
Series
Books:
Clean Green Eats, July 2015
Hardcover
Clean Green Drinks, May 2014
Hardcover
Cook Yourself Sexy, October 2012
Paperback
Pretty Delicious, February 2011
Hardcover