Lexxie Couper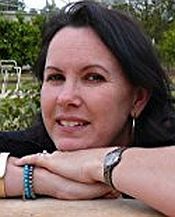 Blogging at Fresh Fiction
Lexxie Couper | I Dedicated a Romance Book to Stephen King? Really?
June 9, 2017
I became hooked on Stephen King when I was thirteen. I have no idea how I came to pick up his book, Read More...
Lexxie Couper | Real Aussies Donít Drink Fosters
January 31, 2017
Stereotyping is a technique used often by storytellers as a shortcut. It can come in handy to quickly get across what a character is like Read More...
Lexxie Couper started writing when she was six and hasn't stopped since. She's not a deviant, but she does have a deviantís imagination and a desire to entertain readers with her words. Add the two together and you get erotic romances that can make you laugh, cry, shake with fear or tremble with desire. Sometimes all at once.
When sheís not submerged in the worlds she creates, Lexxieís life revolves around her family, a husband who thinks sheís insane, a indoor cat who likes to stalk shadows, and her daughters, who both utterly captured her heart and changed her life forever.
Contact Lexxie or her follow her on Twitter or visit her at website where she occasionally makes a fool of herself on her blog.
Series
The Muse
Books:
The Mistaken Billionaire, June 2017
Muse #2
e-Book
The Stubborn Billionaire, February 2017
The Muse #1
e-Book
Curved Lines, August 2016
e-Book
Better With You, April 2016
e-Book
Bare for You, August 2015
e-Book
Burn for You, May 2015
e-Book
Secret Confessions: Jorja, January 2015
Sydney Housewives
e-Book
Breathless for You, January 2015
Outback Skies
e-Book
Blackthorne, November 2014
Heart of Fame #8
e-Book
Getting Played, August 2014
e-Book
Lead Me On, January 2014
e-Book
Steady Beat, October 2013
e-Book
Guarded Desires, July 2013
Heart of Flame #3
Hardcover
Dark Embrace, April 2013
Principatus
e-Book
Dark Destiny, March 2013
Principatus #1
e-Book
Muscle for Hire, January 2013
e-Book
Suspicious Ways, November 2012
e-Book
Savage Transformation, October 2010
Savage Australia #2
e-Book
The Sun Sword, October 2010
Trade Size