Margaret Bingley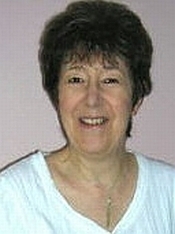 Pseudonym for Fredrica Alleyn.
Pseudonym: Marina Anderson.

Margaret Bingley was born in Sutton, Surrey more years ago than she cares to remember. She was educated at Sutton High School for Girls GPDST and then at Rickard's Lodge Secretarial College in Wimbledon. This secretarial college no longer exists, a fact for which she refuses to bear any responsibility. After that she went to work at the BBC in London, and later moved to work for The Heinemann Group of Publishers at Lower Kingswood in Surrey, where she met her future husband, Alan.In 1974, Margaret and Alan moved to Grantham in Lincolnshire, due to Alan's work commitments. Margaret found it difficult to find the kind of work that she enjoyed there, and decided that having a child might be more fun.
In 1976 her son, Alex, was born and she discovered that she was wrong. It had actually been more fun working as a secretary in a tyre making machinery company. Because Alex was an active little chap, with a severe case of sleep aversion for his first four years, Margaret became physically exhausted and mentally brain dead. After reading a particularly boring book, she decided to try and write one herself and eventually, after many trials and tribulations, her first book THE DEVIL'S CHILD was published. Much of the book was based on those early, halcyon days of motherhood.
She continued writing steadily from 1983 onwards, and in February 2000 she also started writing a weekly column of 400 words for the local paper, The Grantham Journal, entitled 'The Way I See It'. The way she saw it was often not the way the readers saw it, but at least it provided people with a talking point and someone to hate when the weather was bad. She stopped writing the column in July 2005 due to her husband's ill health.
Over the years, as Margaret has progressed from manual typewriter to electric typewriter to computer, Alan has retired to become a kept man and Alex has been to drama school, where he gained a B.A.(Hons) in acting. He then spent four years as an actor/waiter before deciding to take a Masters Degree in Voice at the Central College of Speech and Drama. Having gained his Masters, he is now Deputy Head of Voice and Head of Shakespeare at a leading London drama school. He very kindly gives his mother free vocal assistance before she's due to give any of her talks, and is also very good at giving her relaxation hints. On balance, she feels that having a child turned out to be a wise decision.
Apart from her work, Margaret enjoys reading, opera, dry white wine, Foyle's War (or anything else with Michael Kitchen in it!) gardening and the company of her Cavalier King Charles Spaniels called Amber and Poppy.
She does not like reality TV shows, 'alternative' comedians or Political Correctness.
Log In to see more information about Margaret Bingley
Log in or register now!
Series
Books:
Betrayal, November 2014
e-Book
Gateway To Hell, January 2009
Trade Size
Devil's Child, December 1987
Hardcover