David Dosa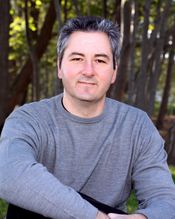 Photo Credit: Mary Ann Rosenlof

David Dosa MD, MPH is a practicing geriatrician and health services researcher at Brown University in Providence, Rhode Island. In July 2007, David garnered international attention for an essay on Oscar that was published in the New England Journal of Medicine.
After the story made headlines on morning television programs and newspapers around the world, David decided to write his first book "Making Rounds with Oscar: The Extraordinary Gift of an Ordinary Cat" about his experiences with Oscar.
David lives with his wife and two children outside of Providence, Rhode Island. He is currently trying to convince his wife to buy a cat or a dog-- with significant assistance from his two kids. Unfortunately, like many of the characters in his book, David and his wife are also now part of the 'Sandwich Generation' a generation caught between raising children and caring for a parent with dementia.
Interviews for David Dosa
Interview with Dr. David Dosa
Making Rounds With Oscar
February 3, 2010
Series
Books:
Making Rounds With Oscar, February 2010
The Extraordinary Gift Of An Ordinary Cat
Hardcover