Kaitlyn Dunnett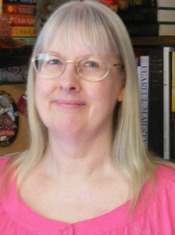 Blogging at Fresh Fiction
Kathy Lynn Emerson | Hanging in There
September 19, 2011
Brought to you from Kathy Lynn Emerson (aka Read More...
Pseudonym for Kathy Lynn Emerson.
Pseudonym: Kathy Lynn Emerson.

Kaitlyn Dunnett is the pseudonym I chose to use on my contemporary mysteries because I am better known under my own name (Kathy Lynn Emerson) for historical mysteries, nonfiction, and historical romances. I used a pseudonym once before, for three contemporary category romances I wrote for Silhouette. That name was Kaitlyn (the name Iíd have given myself rather than Kathy Lynn) Gorton (my maiden name). I didnít want to use the same pseudonym again, since these new books are mysteries, not romances, so I kept the Kaitlyn and borrowed the surname of one of my favorite authors, Dorothy Dunnett. I was hoping to reduce confusion by using different names for my contemporary and my historical mysteries, but opinion is mixed on whether this was a good idea or not. In the meantime, just to make things more complicated, I've started using yet another pseudonym, Kate Emerson, to write non-mystery historical novels set in the Tudor era.
I live on a Christmas tree farm in Maine with my husband and assorted cats and although I am not currently involved in things Scottish, I have been in the past.
Books:
Bagpipes, Brides and Homicides, July 2013
Liss MacCrimmon Series #6
Paperback
Scotched, November 2011
Liss MacCrimmon #5
Hardcover
The Corpse Wore Tartan, November 2010
Liss MacCrimmon Scottish Mystery #4
Hardcover
A Wee Christmas Homicide, October 2009
Liss MacCrimmon #3
Hardcover
Scone Cold Dead, August 2009
Liss MacCrimmon #2
Paperback (reprint)
Kilt Dead, July 2008
Liss MacCrimmon #1
Paperback (reprint)