Gayle Trent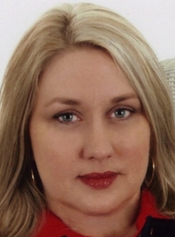 E-mail me when Gayle Trent releases a new book.
Blogging at Fresh Fiction
Gayle Trent | FreshFiction + Fresh Cake = A Delicious Combination!
November 14, 2009
I'm thrilled to be a part of FreshFiction and to have the opportunity to introduce you to my series, the Read More...
Pseudonym for Amanda Lee.
Pseudonym: Gayle Leeson.

Dear Reader
Have you ever wanted a "do-over"? Daphne Martin knows all about do-overs. At age 40, she retired from a government job in Tennessee to move back to her hometown of Brea Ridge, Virginia to start her own cake decorating business. With her ex-husband serving time in a Tennessee prison for attempted murder (lucky for Daphne, he's a lousy marksman), Daphne is eager to put her old life behind her and start life anew.
I hope you'll join Daphne in her cake decorating adventures in Brea Ridge. You'll meet a parrot who facilitates breaking and entering, a woman named China who is anything but fragile, a prize-winning guinea pig who lives high on the hog and a widow in her sixties who enjoys rocking out to musical video games.
* * *
Gayle Trent is a 'cozy mystery' author whose work combines quirky characters like Daphne Martin with merriment and suspense for small town adventures in Murder Takes the Cake - the first book in the Daphne Martin Cake Decorating Mystery Series
Gayle writes a cozy embroidery mystery series for NAL/Penguin under the pseudonym Amanda Lee. The first book in that series is due to be released in August of 2010. If you're a hobby enthusiast, be sure to visit Gayle's blog on Mondays and Wednesdays to read "Killer Cakes" and "Sew Deadly" (respectively), newsletters written by the heroines of Gayle's mystery series.
Series
Daphne Martin Cake Decorating Mystery | Myrtle Crumb
Books:
The Flame, April 2016
Paperback
Perp and Circumstance, October 2015
A Myrtle Crumb Mystery #5)
e-Book
Killer Wedding Cake, July 2015
e-Book
Soup...Er...Myrtle!, June 2014
A Myrtle Crumb Mystery #4
e-Book
Claus of Death, December 2013
A Myrtle Crumb Mystery #3
e-Book
Battered To Death, October 2013
Paperback
When Good Bras Go Bad, December 2012
Myrtle Crumb Series #2
e-Book
Killer Sweet Tooth, October 2011
Paperback
Murder Takes The Cake, April 2011
Daphne Martin Cake Mystery #1
Paperback
Dead Pan, November 2009
Daphne Martin Cake Decorating Mystery #2
Paperback
Murder Takes The Cake, October 2008
Daphne Martin Cake Decorating Mystery #1
Paperback
Between A Clutch And A Hard Place, November 2004
Myrtle Crumb Mystery #1
Paperback

Videos