Robert J. Mrazek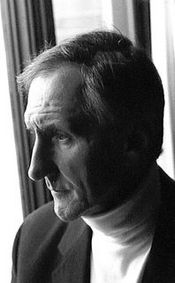 Bob Mrazek grew up in Huntington, N.Y. He graduated from Cornell University in 1967 with an AB degree in political science. From 1967-1968, he served in the U.S. Navy.
After working on the Washington staff of U.S. Senator Vance Hartke (D-Ind.), he was elected in 1982 to the U.S. Congress, defeating John Le Boutillier, the Republican incumbent in Long Island's "Gold Coast" district on the north shore of Long Island. Just the fourth freshman in the history of the House to be elected to the Appropriations Committee, he served ten years, announcing in 1991 that he would not stand for re-election.
In 1990 Bob Mrazek authored the law that saved the 17 million acre Tongass National Forest in Alaska from being clear-cut by the two largest pulp companies in the U.S. Mrazek also authored the Amerasian Homecoming Act, a law that brought more than 16,000 sons and daughters of American military personnel from lives as street children in Saigon to the U.S. Congressman Mrazek was also the original sponsor of the Landmark Preservation Act, a law that saved the Manassas Civil War battlefield from becoming a "mega-mall." He also wrote the National Film Preservation Act, a law that established the National Federal Registry of master film works in the Library of Congress, for which he received a career achievement award from the Director's Guild of America.
Mrazek was named Conservationist of the Year by the National Parks and Conservation Association and earned the Commissioner's Preservationist Award from the Governor of New York. Since his retirement from Congress, he has served on the boards of several charitable organizations, including ten years as Chairman of the Washington-based Alaska Wilderness League. In 2004, he received the first annual Happel Award from the Central Virginia Battlefields Trust for his work in battlefield preservation.
His first novel, Stonewall's Gold, was chosen as a featured selection of the Literary Guild, a main selection of Reader's Digest Select Editions, and won the Michael Shaara prize for the best Civil War novel of the year. His second novel, Unholy Fire, was published by St. Martin's Press, and received similar critical acclaim. His third novel, The Deadly Embrace, was published by Viking Press, and won the W.Y. Boyd prize for the best military fiction of 2007.
A Dawn Like Thunder is Mr. Mrazek's first non-fiction book. It was chosen as a main selection of the Military and History Book Clubs.
Bob Mrazek lives and writes in upstate New York and Maine.
Log In to see more information about Robert J. Mrazek
Log in or register now!
Series
Lexy Vaughan & Steve Macaulay
Books:
Dead Man's Bridge, July 2018
Jake Cantrell
Trade Size (reprint)
Dead Man's Bridge, August 2017
Hardcover
The Bone Hunters, December 2015
Lexy Vaughan & Steve Macaulay #2
Paperback
Valhalla, October 2014
Lexy Vaughan & Steve Macaulay #1
Paperback
A Dawn Like Thunder, December 2008
Hardcover